Premium Blend 200g Leaf Tea
Regular price
Sale price
$6.75 AUD
$0.08
per
serve
Unit price
per
Out of stock
Experience the full-bodied flavour of our Premium Blend in its purest form with our 200g loose-leaf tea. Made from the finest quality selection, this blend is perfect for those who appreciate a strong, bold tea.
80 Serves per Packet
Brewing Instructions

Boil fresh, ideally filtered water
250mL hot (95-100°C) water per cup
1 tsp Premium Blend per cup
+1 tsp for the pot
Steep for 5-6 minutes
Origin

Packed with care, by us on our Northern NSW Farm in Australia.

Pack Info

Height: 156 mm
Width: 90 mm
Depth: 61 mm
Unit Barcode: 089978000953
Carton Barcode: 19389978006206
Madura Code: RPBL200A
Storage

Store in an airtight container, away from light, odour and moisture.
Share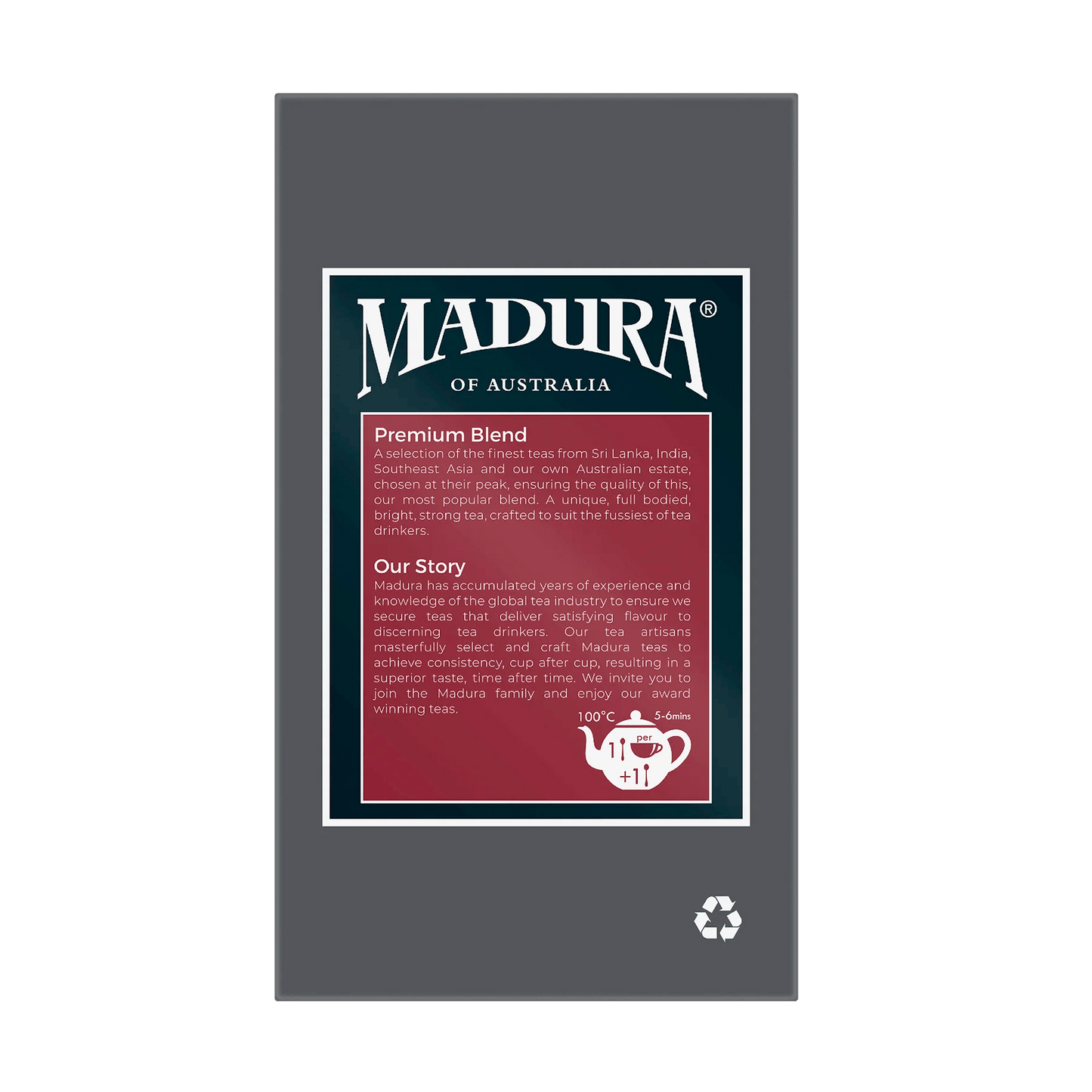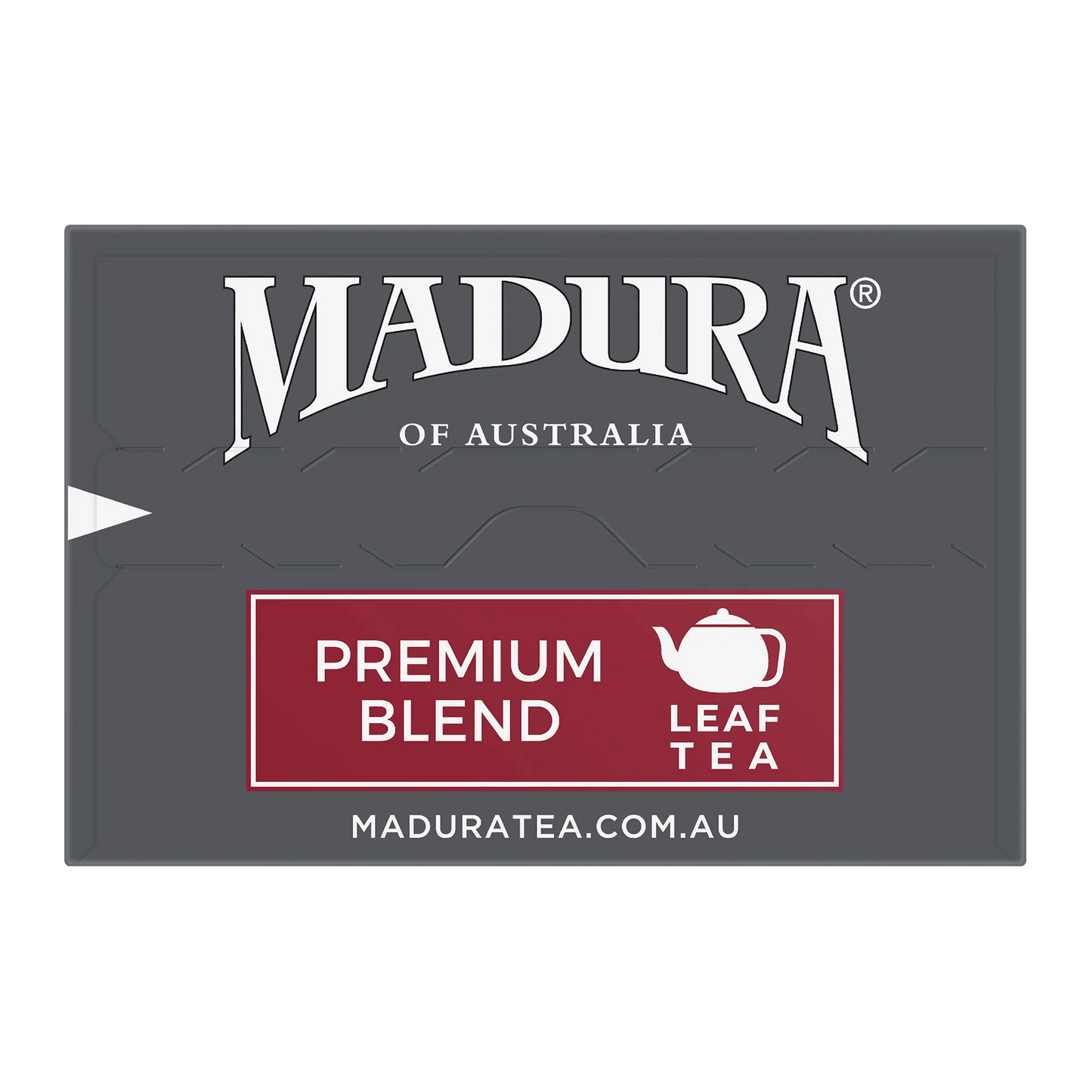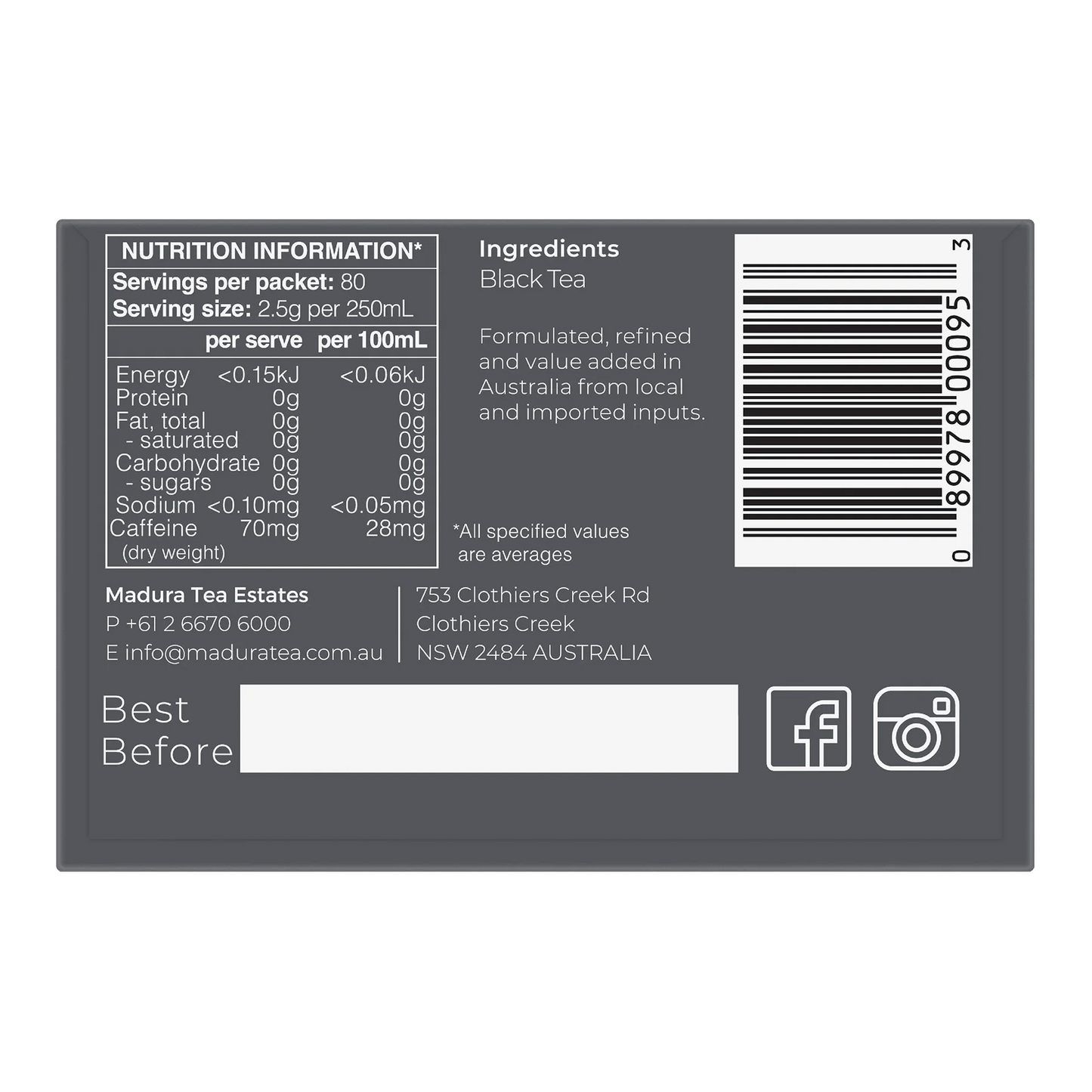 People also liked - Gift Hampers for under your tree!
Number one
Premium Blend is so flavorful and satisfying that we don't drink anything else and even take it with us when we travel.
I have been lucky enough to drink Premium Blend 200g leaf tea for a good many years now , and have found this quality tea having a consistent full flavour, which other brands don't seem to seem reach.
Truly tasty tea
We have been drinking Madura tea for many years & enjoy the taste so much so that we would rather go without than drink another style of tea..
I looked at my original tea caddie & it's best before 2009…loyal customers.
best all round tea
the go to tea when ever we want a perfect cuppa
Leaf Black Tea
Also so fresh in the pouches and less packaging
Helps me start my day. Makes a nice pot of tea!
Delicious refreshing
An all-time favourite for daily refreshment
My Favourite
This is really simple: Madura Premium Blend is the best tea for both early morning and my afternoon. It's always delicious and I even take it into work and travel.
Personal blending.
We blend one each of Premium Blend, English Breakfast, and Organic Black leaf teas together in a large glass jar for our daily brews. We've been doing this for years. This blend suits our palate. We've tried blending one unit of another other brand with this mix, but haven't been able improve the taste or satisfaction. The blend of the three has a better taste to us than the teas brewed separately. Taste is a very personal thing.