Organic Green 50 Tea Bags
Regular price
Sale price
$6.95 AUD
$0.13
per
serve
Unit price
per
Out of stock
Savour the goodness of our refreshing, delicate green tea that comes in 50 convenient tea bags. Sourced from Northern India and certified organic, this tea is packed with antioxidants, trace minerals and nutrients, giving you a truly satisfying sip every time.
50 Serves per Packet
Brewing Instructions

Boil fresh, ideally filtered water
Let water cool slightly
250mL hot (80-85°C) water per cup
1 Organic Green Tea bag per cup
(+1 bag if brewing in a pot)
Steep for 3-4 minutes

Enjoyed without milk
Origin

Packed with care, by us on our Northern NSW Farm in Australia.

Pack Info

Height: 156 mm
Width: 90 mm
Depth: 61 mm
Unit Barcode: 9389978003758
Carton Barcode: 19389978005780
Madura Code: ROGTB50
Storage

Store in an airtight container, away from light, odour and moisture.
Share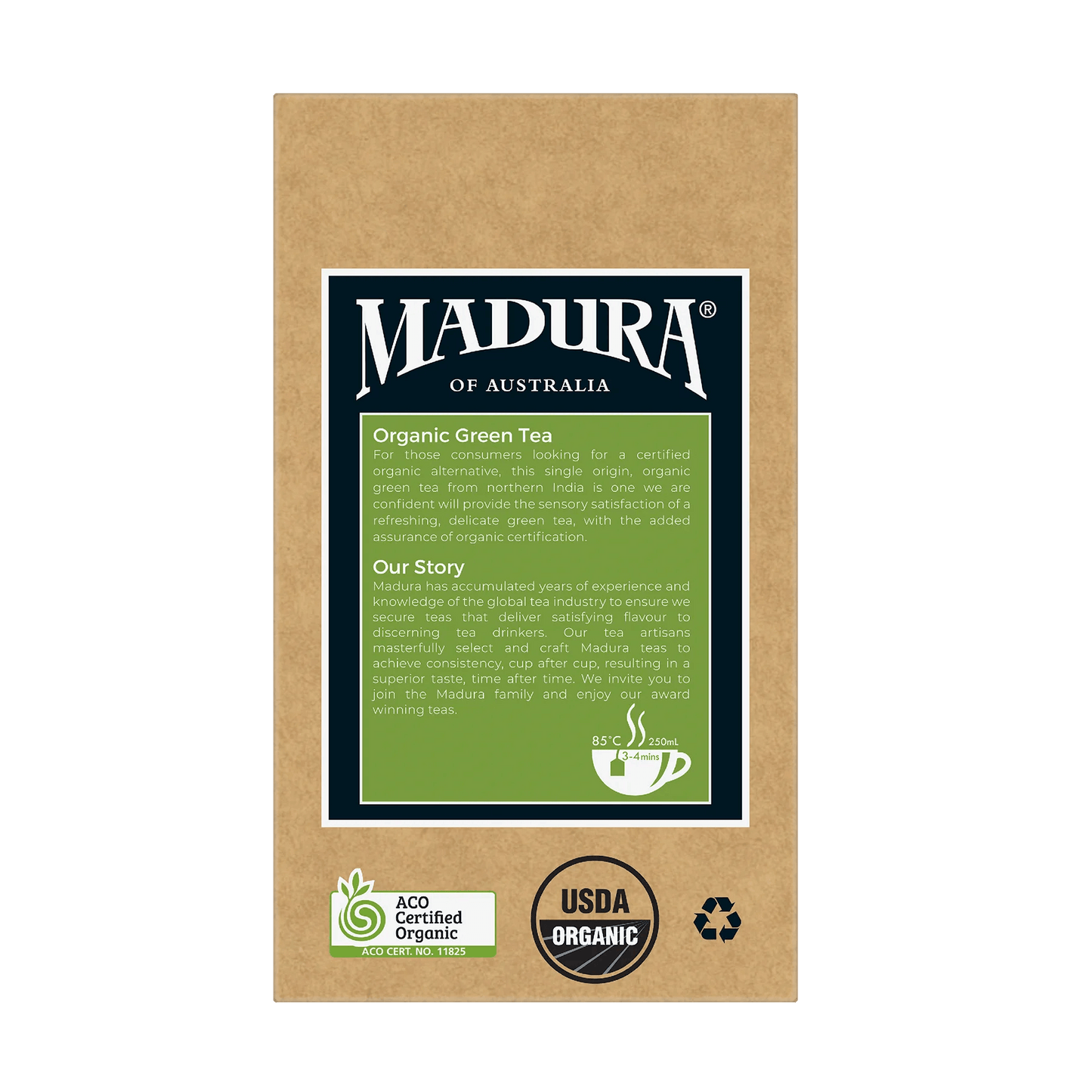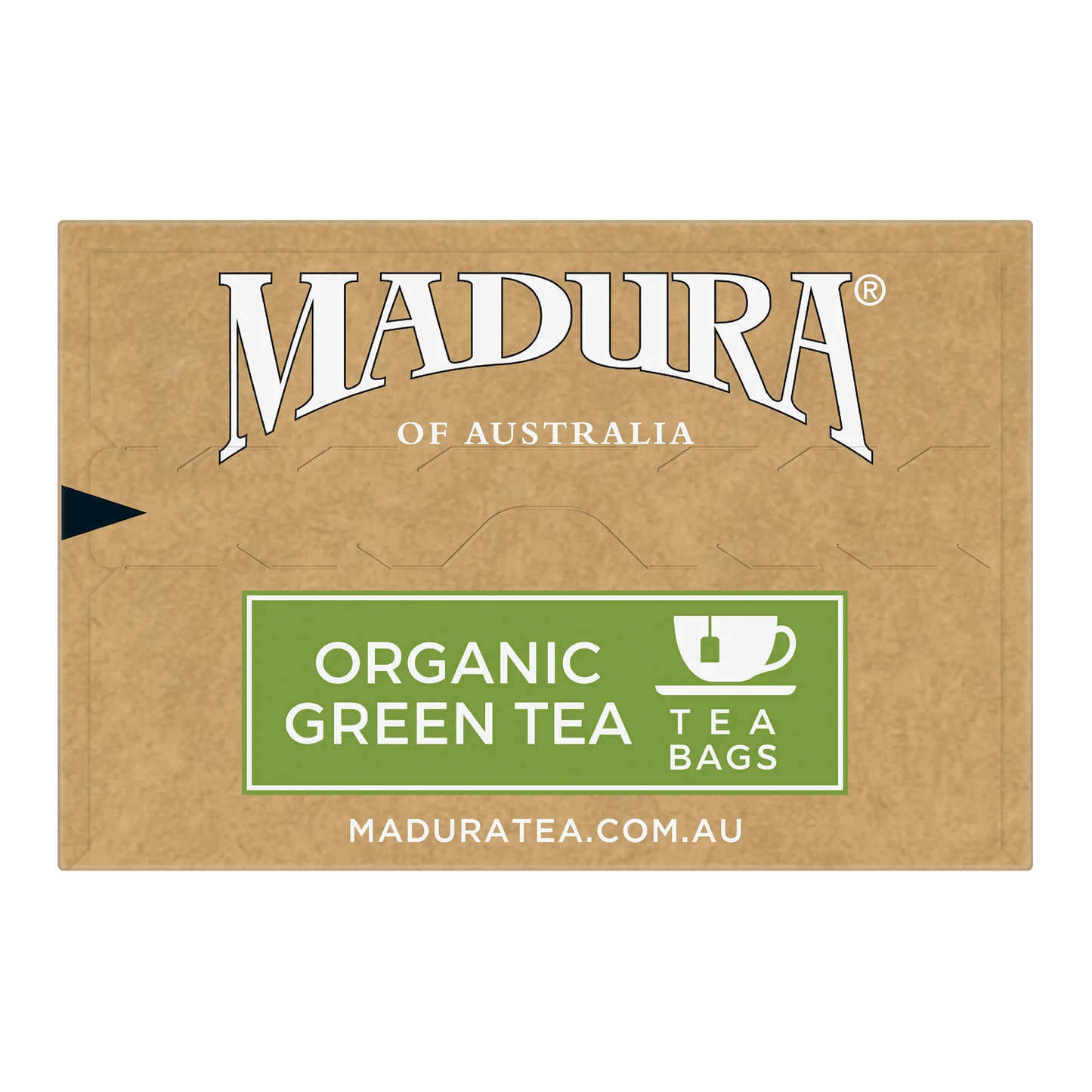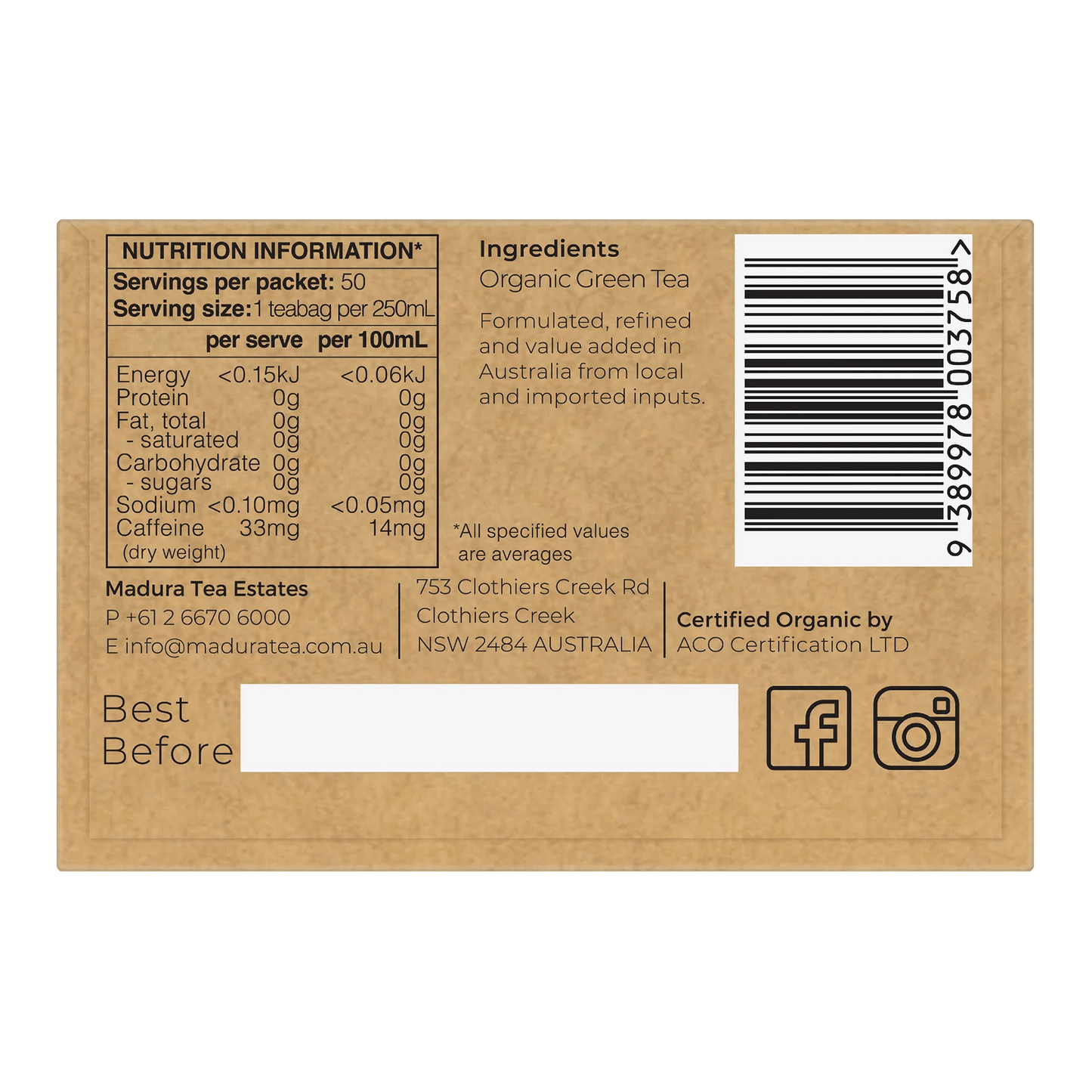 People also liked - Gift Hampers for under your tree!
Best tea ever
I have been using your Organic Green tea bags for years now and nothing else compares, my husband is hooked now as well
organic green tea is
The organic green tea is delicious and more people
Need to start using it. ❤️
Best Green Tea on the market
I have been drinking this tea for years now, if ever I try another green tea, it doesn't compare. There aren't many options for affordable organic products either.
ORGANIC GREEN TEA
I have been drinking Madura Organic Green Tea for years. When I lived on Gold Coast it was easy to find at Woolworths or Health Shops.. now I live in Rural Victoria it's not so easy. I absolutely love this tea and drink several cups a day. Now I buy directly from Madura and the only thing is the postage is not cheap but this does not deter me as I love the tea and also like to support locally made products. Thank you Madura Tea
A Wonderful Product
This product is consistently of high quality. My family drink Madura's green tea hot or cold. It is a healthy and enjoyable beverage and never fails to satisfy.
The communications from Madura are friendly and a pleasure to receive. Their customer service is excellent.
One of the best!
It's one of the best green teas I've tasted!
Best green tea!
This is the only tea won't give me irregular heart beat. Can't do without it! Best ever green tea!
We love this tea.
We really enjoy this tea and being organic makes it so much better.
Best green tea
Perfectly balanced green tea with no bitter after taste.
Quality, delicious tea
Madura Organic green tea is the only tea I buy. A quality product every time. I buy direct from Madura as I can't find it in my supermarket.