Organic Green 150g Leaf Tea
Regular price
Sale price
$7.30 AUD
$0.12
per
serve
Unit price
per
Out of stock
Indulge in the delicate, refreshing flavour of our single-origin, Northern Indian green tea, available in 150g leaf tea. With attested organic certification, you can trust that you're enjoying a pure and natural cup of tea that's packed with antioxidants and nutrients. Sip, savour, and rejuvenate your body and mind with every cup.
60 Serves per Packet
Brewing Instructions

Boil fresh, ideally filtered water
250mL hot (80-85°C) water per cup
1 tsp Organic Green Tea per cup
+1 tsp for the pot
Steep for 4-5 minutes

Enjoyed without milk
Origin

Packed with care, by us on our Northern NSW Farm in Australia.

Pack Info

Height: 156 mm
Width: 90 mm
Depth: 61 mm
Unit Barcode: 9389978003482
Carton Barcode: 19389978005476
Madura Code: ROGTL150
Storage

Store in an airtight container, away from light, odour and moisture.
Share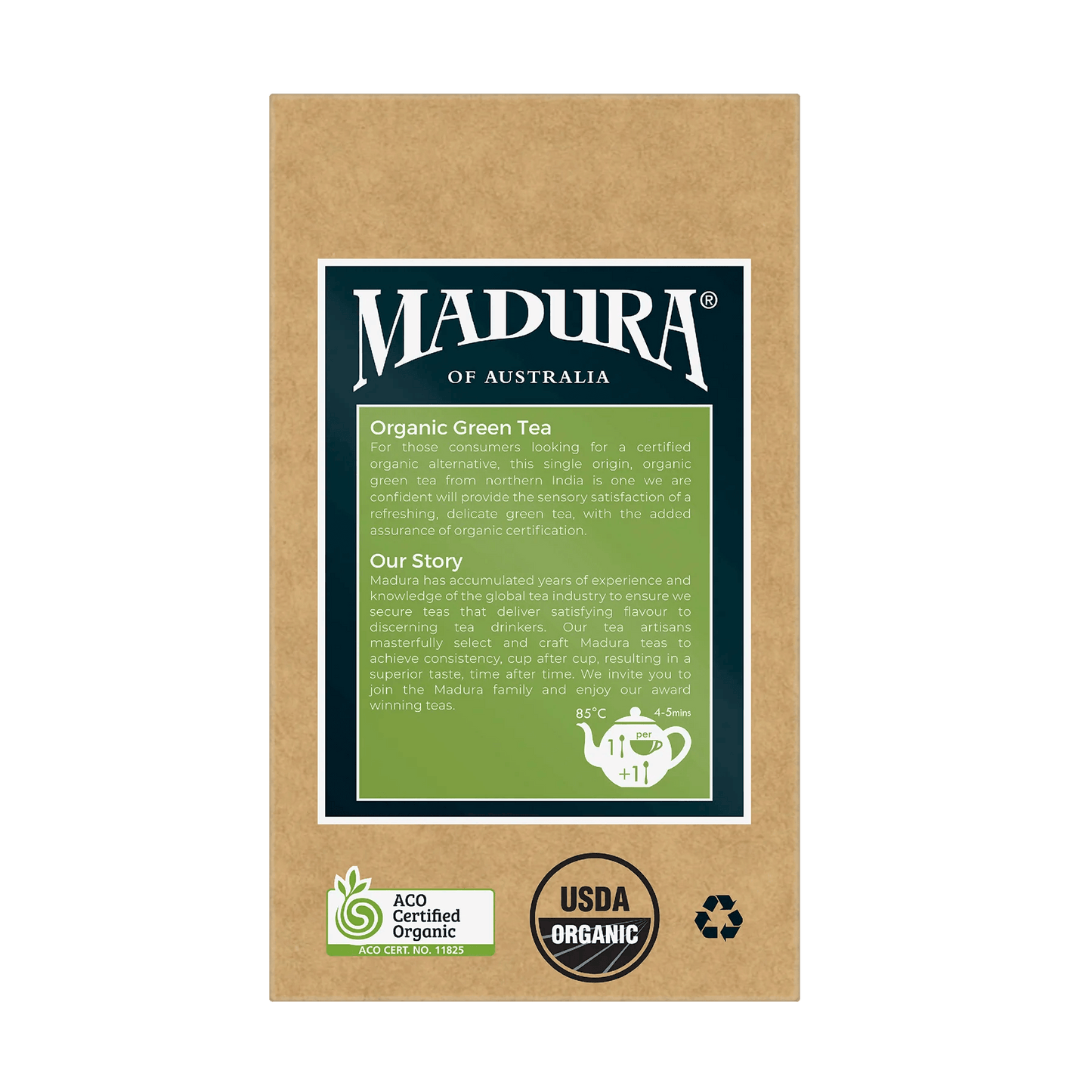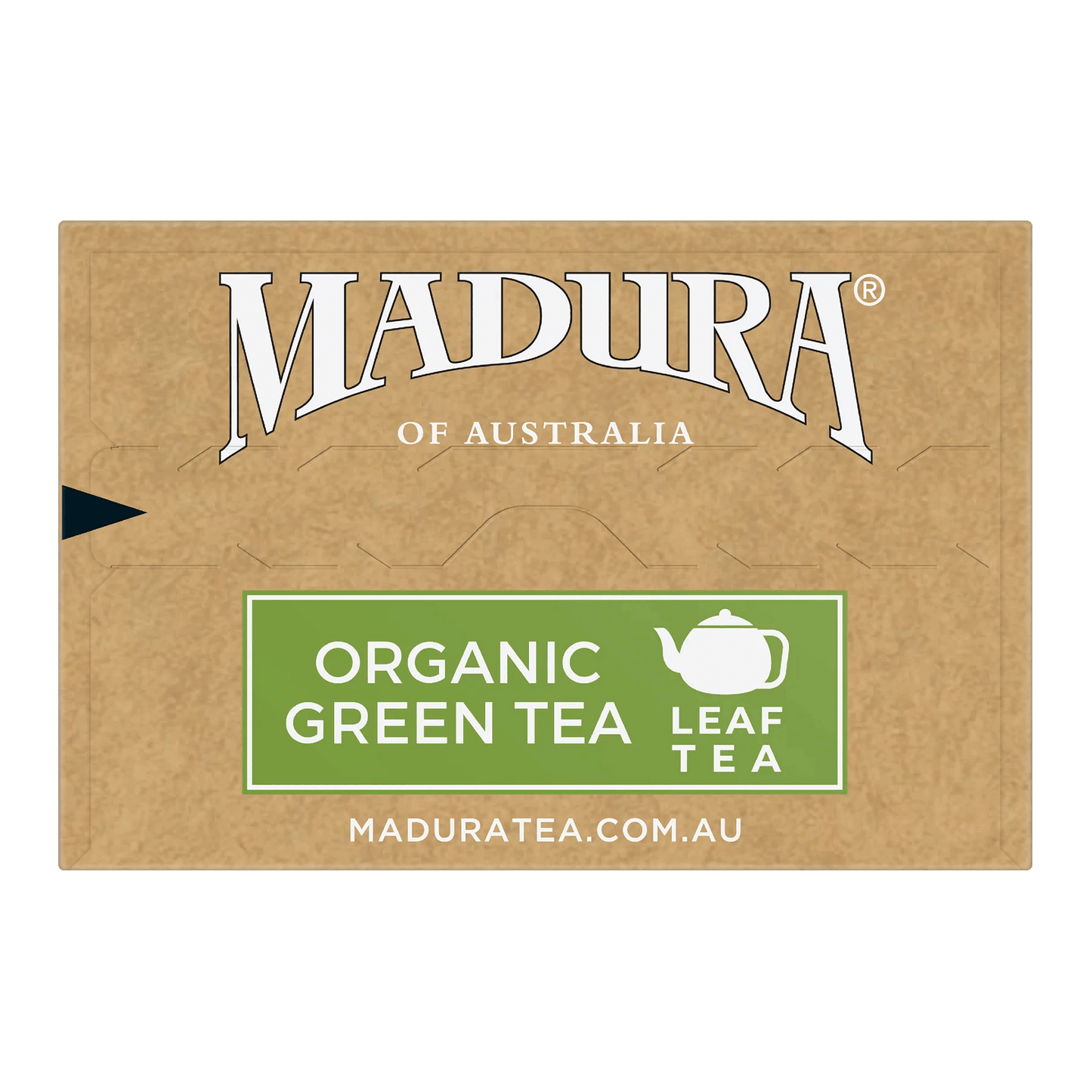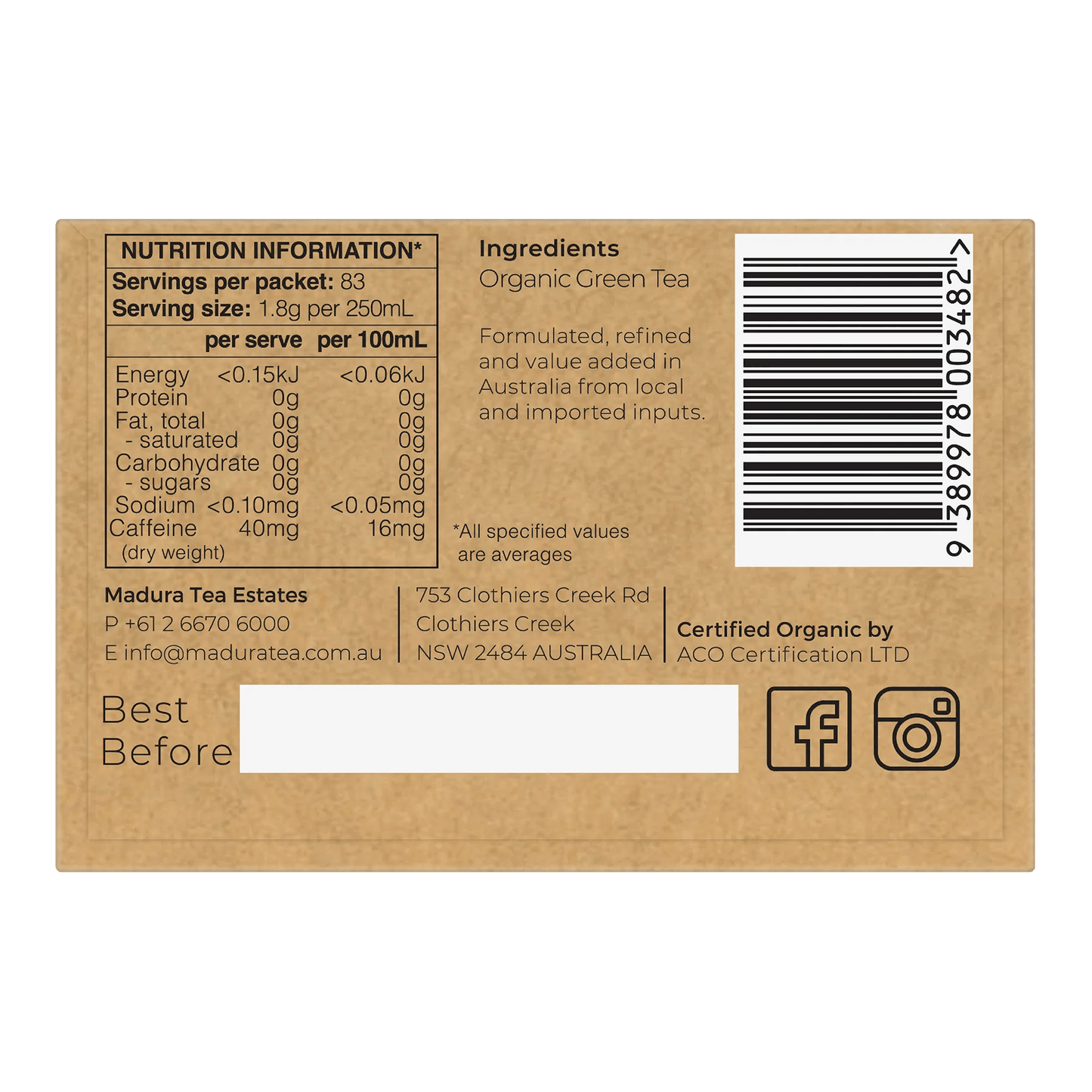 People also liked - Gift Hampers for under your tree!
I love my loose leaf organic green tea.
There is something special about brewing a cup of tea in the pot......and it does not seem to diminish no matter how many cups I have per day. It makes me sit and rest and appreciate every cup. And, in my humble opinion, Madura is the best!
Organic Green Tea
A delicious tasting gren tea
Madura is ny absolute favourite tea
Morning starter
For years now I've started each day with a pot of organic green. Nothing better to get me through the day.Its nice to know its organic and where it comes from
Organic Green Tea Leaf 150g
Undoubtedly a superior and enjoyable green tea.
Best Green Tea ever, from a previous Earl Grey Drinker
My husband drank Earl Grey Tea for decades until I converted him to green tea. Now this is the only Green Tea he will drink even though we have tried other brands. Love that it is Australian, Organic, Loose Leaf and a great price.
Light, delicious every day tea
It' my daily favorite tea, with beautiful light green color and a subtle yet profound taste. My preferred none flavored organic green tea.
Everyday tea
I like to add goji berries in the green tea, drinking it everyday, trusting it.
Liking the Organic Green Tea
I make the brew of tea as breakfast is being prepared and since there are just two people in the household, I make a large pot to last all day. During the day a 'splash' of tea from the pot into the cup and topped with boiling water creates a good tasting cuppa. Most tea would need to be freshly brewed but the Organic Green tea remains in good nick.
We love this tea. We have it morning and afternoon with either rosemary or sage. Its very refreshing and tasty.
I love this tea, have it every morning with some fresh ginger in it. Great way to start the day with a fantastic tea that's grown in Australia & is organic.