Organic English Breakfast 100 Tea Bags
Regular price
Sale price
$12.35 AUD
$0.12
per
serve
Unit price
per
Out of stock
Experience the goodness of our certified organic blend of pure Indian teas with our pack of 100 tea bags. Our English Breakfast style tea boasts a perfect balance of colour and strength, offering a smooth and satisfying taste with every cup.
100 Serves per Packet
Brewing Instructions

Boil fresh, ideally filtered water
250mL hot (95-100°C) water per cup
1 Organic English Breakfast tea bag per cup
(+1 bag if brewing in a pot)
Steep for 4-5 minutes
Origin

Packed with care, by us on our Northern NSW Farm in Australia.

Pack Info

Height: 156 mm
Width: 181 mm
Depth: 61 mm
Unit Barcode: 9389978003734
Carton Barcode: 19389978005766
Madura Code: ROEBB100A
Storage

Store in an airtight container, away from light, odour and moisture.
Share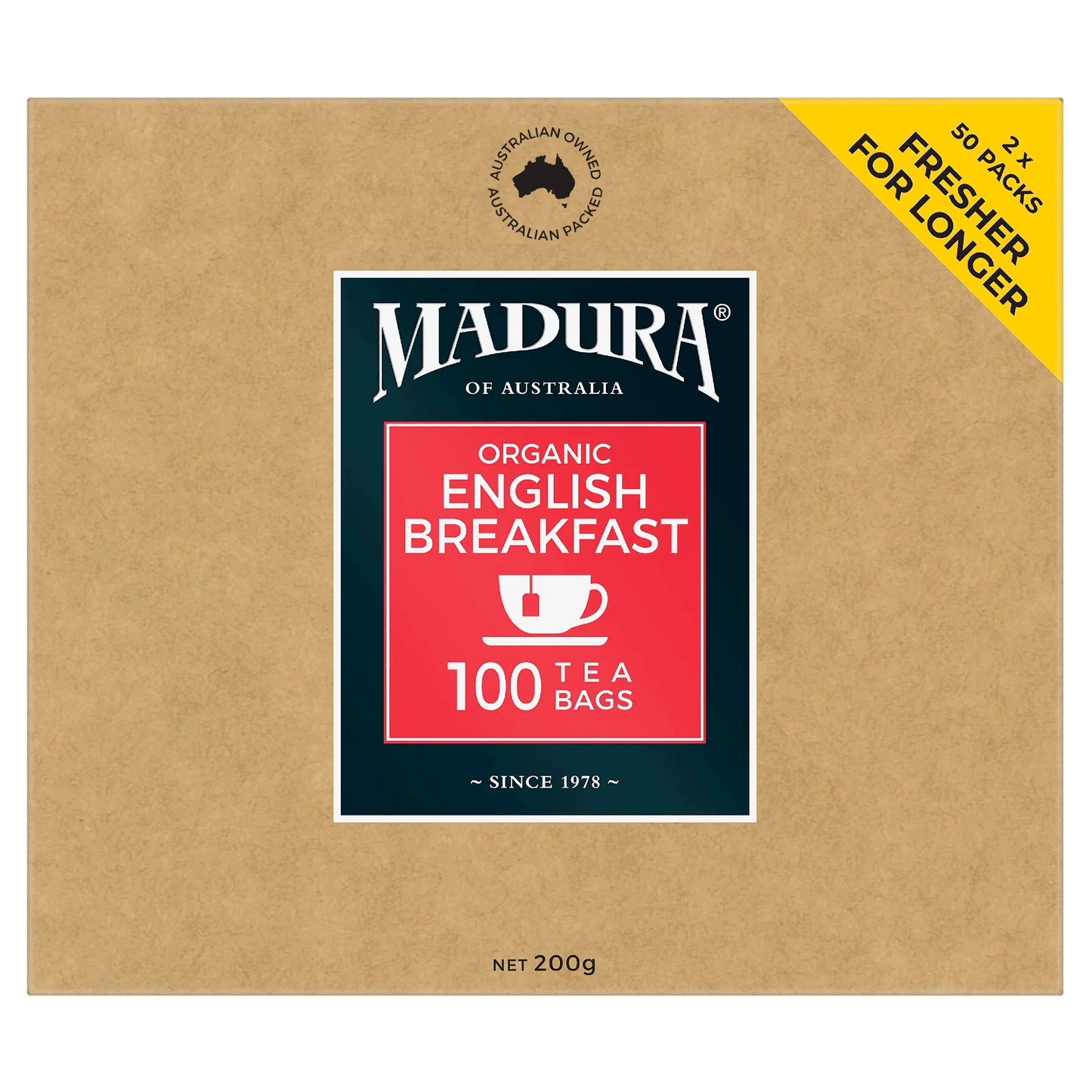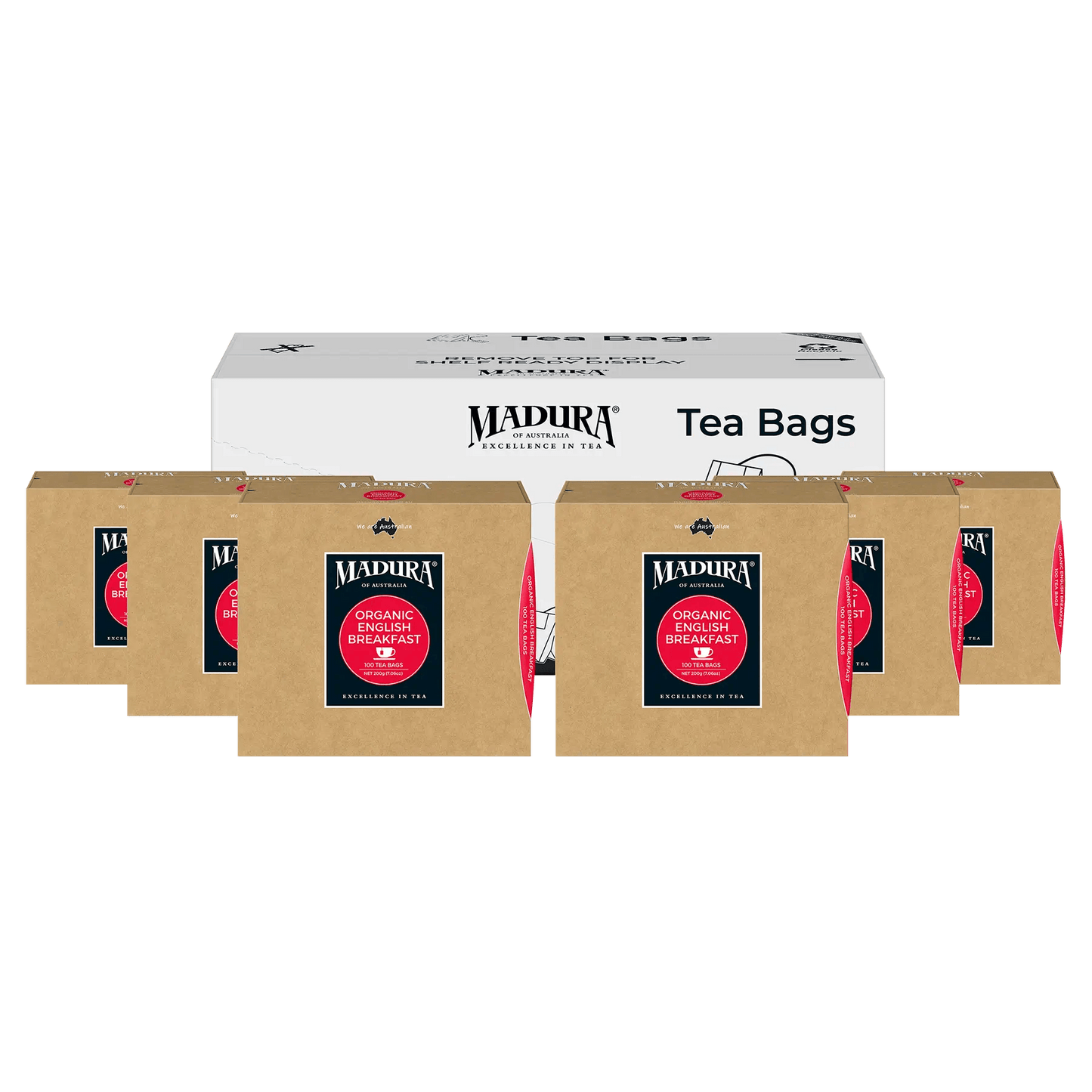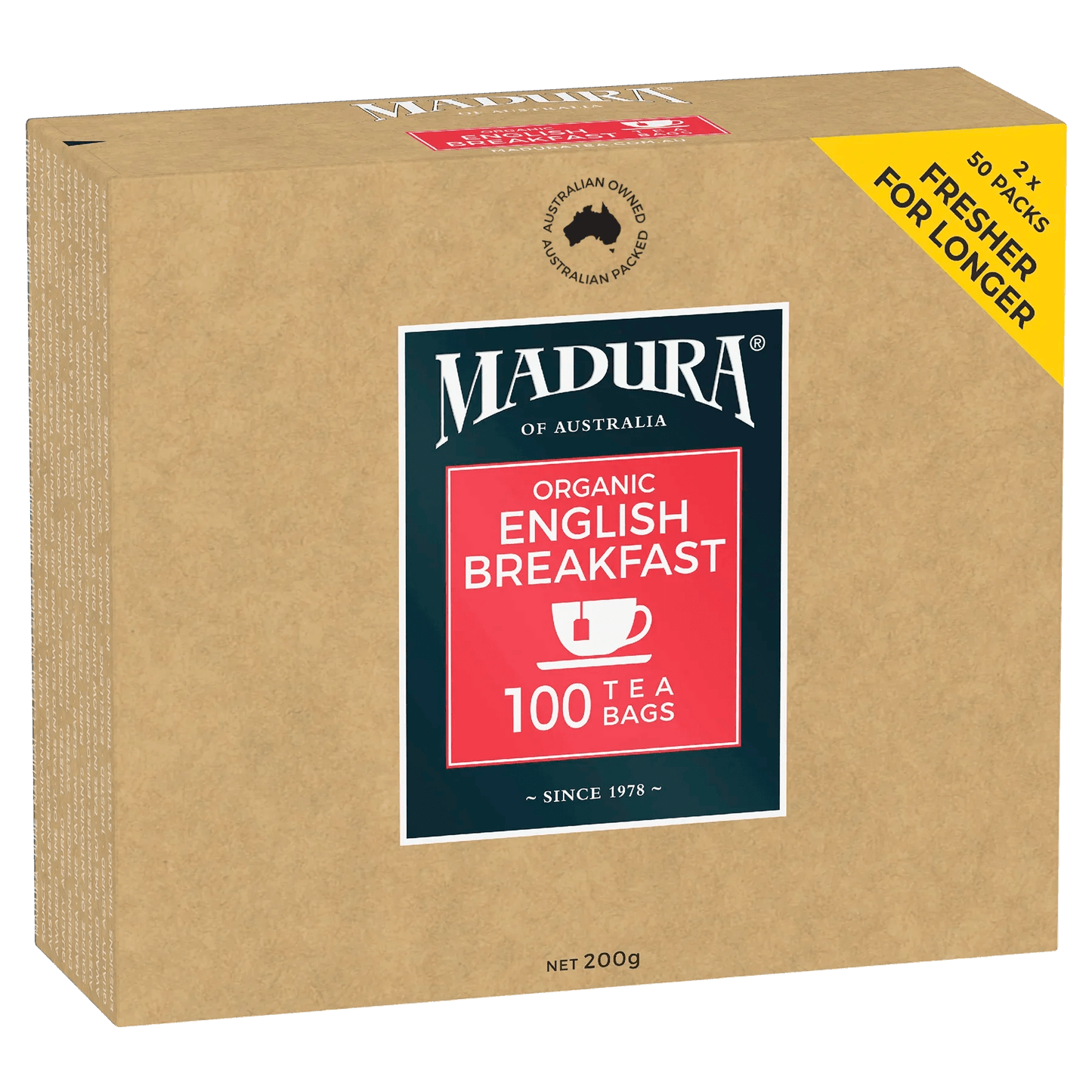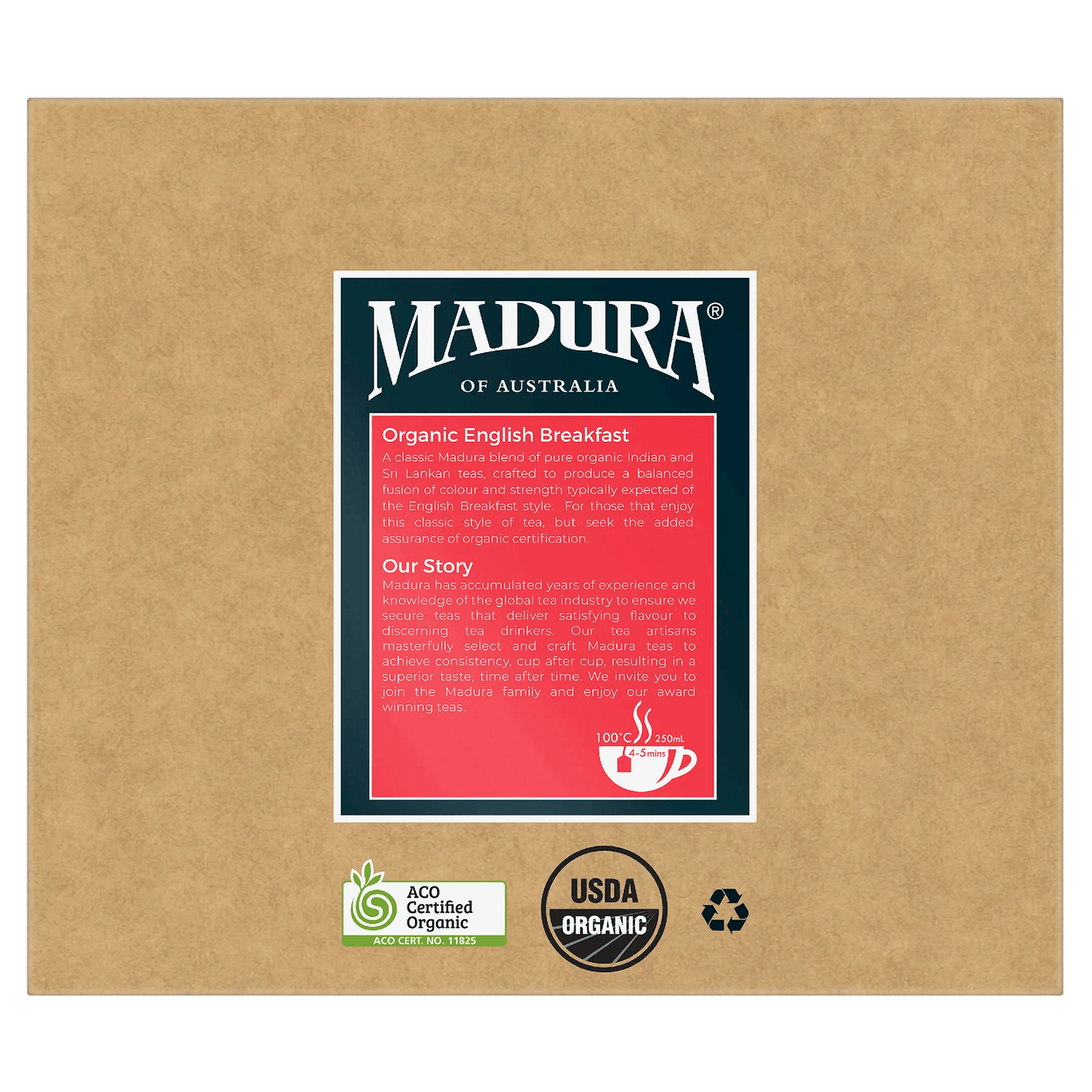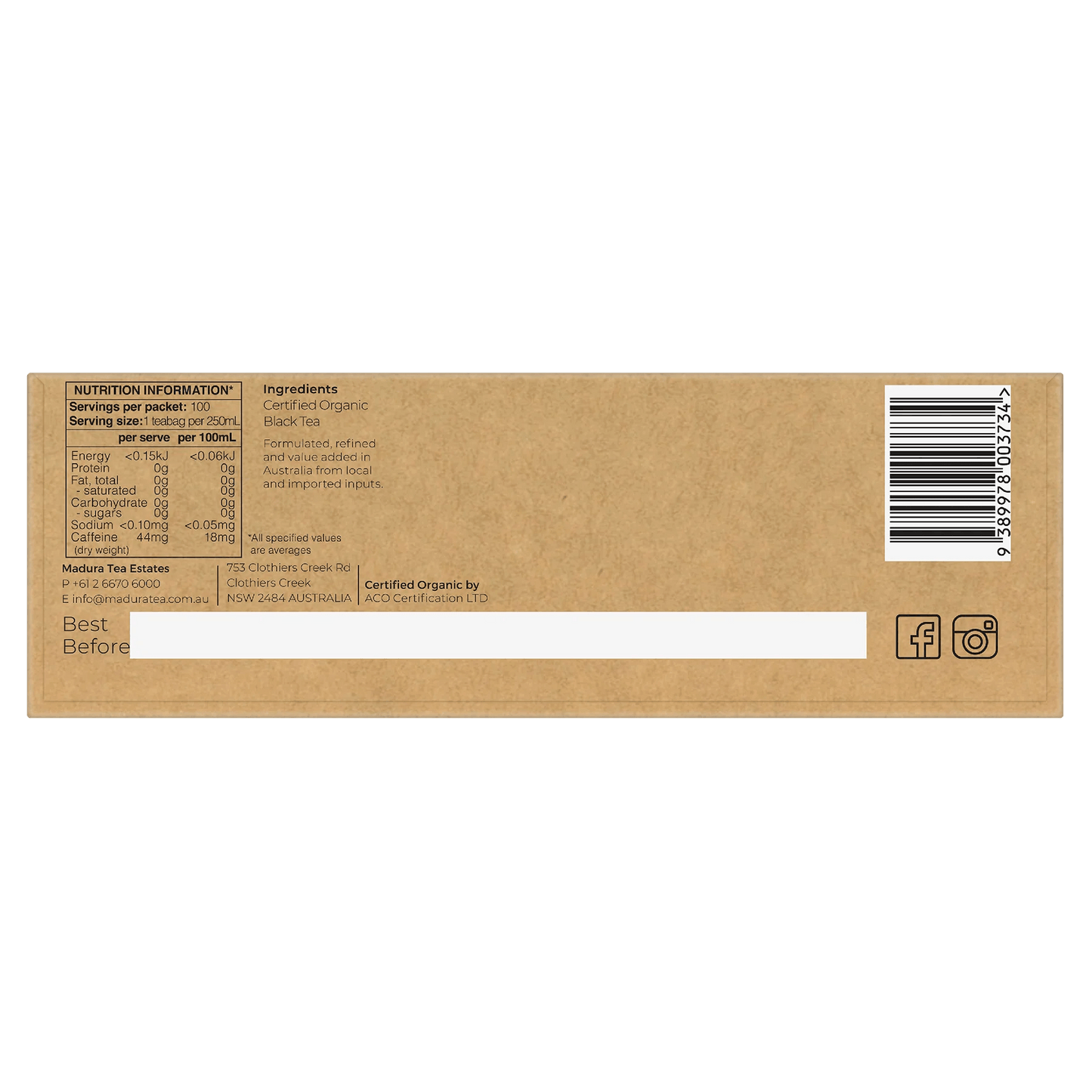 People also liked - Gift Hampers for under your tree!
A nice cup of tea
We use these tea bags while travelling for convenience, and because they have a good tea to our taste to our palate. One thing they don't have is the taste of the bag that is so obvious in so many others.
Madurah English Breakfast Tea, Oh yea!
I discovered Madurah tea around eleven years ago and once I tasted the premium blend I never looked back. More to the point this is an Australian owned, Australian grown product and I was sick of drinking teas imported from overseas. Then the English Breakfast came out, never looked back, used to buy boxes of fifty, then a hundred from the supermarket and figured I would no longer put money in the supermarket chain pockets. Now I can buy six hundred bags every three months, fantastic. I love my tea, I love this tea in the bag and the loose leaf, which tends to be a bit more up front. Madurah Tea estates, have been great, my orders arrive within couple of days, the customer service is outstanding and the product is top notch.
Its really simple, if you are Australian, you have a duty to buy Madurah Tea, If you are from overseas, you owe it to yourself to try it and never buy another brand again.
my favourite tea
This is my number one favourite tea! the taste is so smooth and good quality. I even take them to work now instead of using the teabags provided in the office as this tea is just so much better. This bigger size box worked out cheaper than the supermarket with a discount offer. I absolutely love the sustainable packaging too. I'll be re buying this again and again.
Great Tea, good price
Always delivered promptly when ordered
Love My Madura Tea
It's always exciting when our delivery of Madura arrives! Delicious tea direct to our door - Love it!!
Refreshing
Really enjoy this tea. Great flavour & refreshing.
Organic English Breakfast tea bags
Always have this tea in my tea tin. Love the taste and so easy to prepare. When a quick cuppa is needed or we are going away - even just overnight - these tea bags are a must have. Such a refreshing brew
Love this Tea
My go to tea with breakfast each morning. I welcome the subtle and fragrant taste with an aah as it hits the spot with each and every mouthful. Organic
English Breakfast is the best.
Love them
I can't go without this tea, its an essential. The flavour is smooth and deep and I don't get any agitation even when I drink them. They are a necessity for me and the best tea I've found. I take them with me everywhere.
Best start to the day!
Convenient and never run out with this pack! Love the taste in the morning and the worms in the compost breakdown the teabags quickly, win win😎