Limited Edition - 100% Madura Estate Grown Black Tea 150g Caddy
Regular price
Sale price
$19.99 AUD
$0.29
per
serve
Unit price
per
Out of stock
AVAILABLE UNTIL SOLD OUT
Discover our exquisite 'Limited Edition - 100% Madura Estate Grown Black Tea' from the stunning Tweed Valley, crafted in response to the demand for a distinctive, full-bodied, 100% Australian-grown tea.

Processed at Madura Tea Estate, our tea retains its robust flavours while achieving a quicker infusion compared to traditional leaf-grade tea. This remarkable balance of freshness and bold flavour ensures an unparalleled tasting experience with every cup. Enjoy this seasonally available treasure while stocks last, and savour a piece of the finest Australian tea heritage.
Share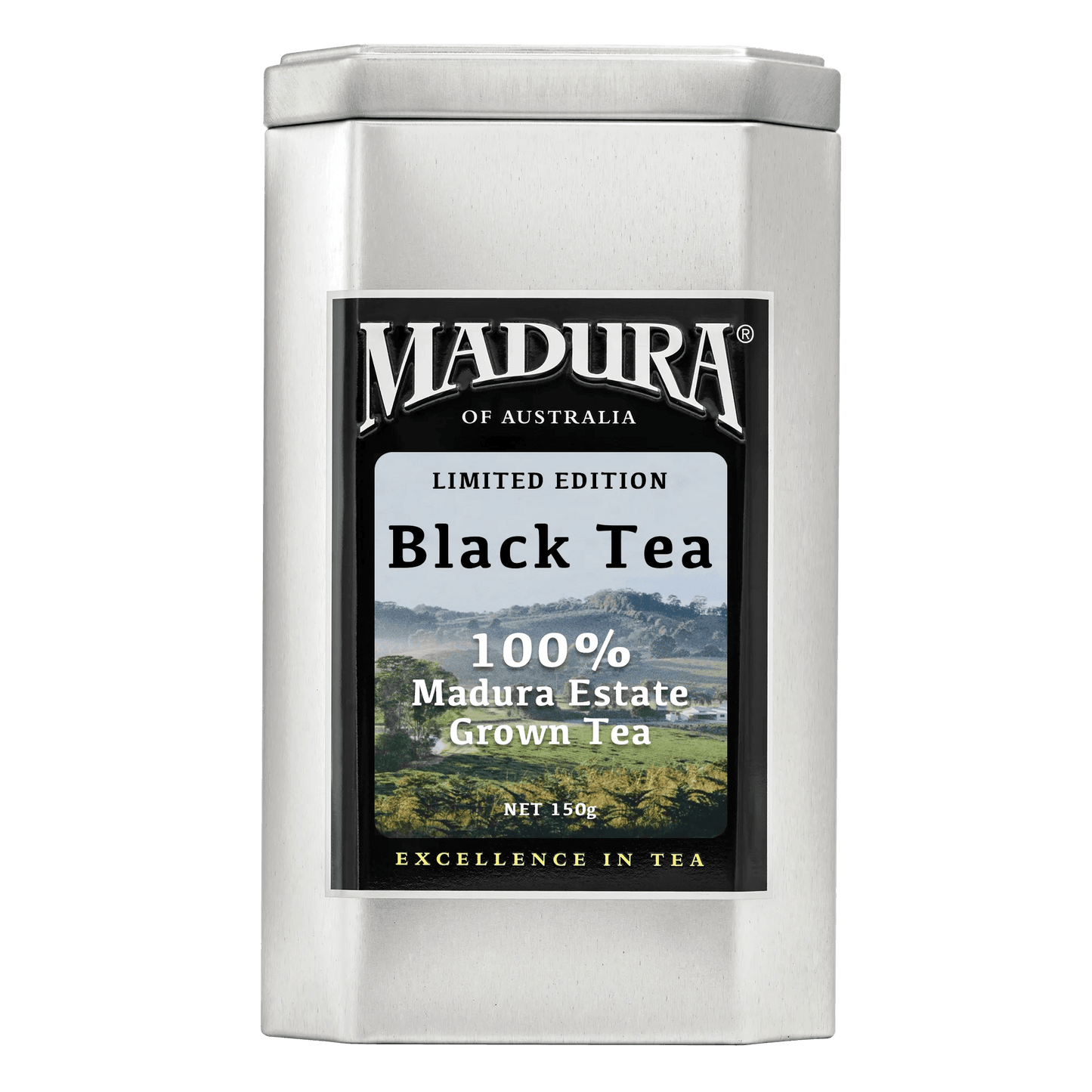 Aussie all the way.
I have been drinking Madura Premium blend since 2016 and was keen to try the Aussie 100%. It is a full bodied tea with a soft hint of tannins. It is a unique flavour and I am sure the Jolly Swagman would approve! I am thoroughly enjoying it on these colder mornings where one needs that extra boost to get going. Thank you Madura for Aussie owned 100% and great mail order service as I live in rural Qld.
Full flavoured and smooth tasting cup of tea.
Review Estate Tea
I love this tea, great flavour. I like the smaller leaves
Great tasting tea
Our family really enjoyed this tea, lots of taste.
What a tasty tea, we use the premium blend tea and having used this tea it tasted so much better.
Enjoyed the 100% Madura. I found it mild and although I usually drink my tea with milk I suggest trying it black as still enjoyable
Aussie tea
I found it to be smooth with a pleasant taste too fine though, end up with too much loose leaf in the bottom of my cup.
My daughter on the other hand, was not a fan she found it too fine and too earthy tasting.
100% Madura Estate Grown - how good!
I've got a lovely collection of Madura tea's now. I love them all and this 100% Madura Estate Grown Black Tea is no different! Very smooth black tea, great at the start of the day or end of the day with a bicky!
Subtle Black Tea
Must admit I was expecting a leaf tea. However, using a fine strainer, this tea presents really well. Subtly flavoured but not overly tannic it stands out from other more generic black teas. I've really grown to like it and glad to have bought 2 packs.