Let it Brew T Box
Regular price
Sale price
$71.00 AUD
$0.98
per
serve
Unit price
per
Out of stock
Introducing our Wooden Tea Box, the perfect way to embark on a journey of taste and exploration. With 72 tea bags featuring six unique flavours, you can enjoy the calming and soothing experience of tea while discovering new and exciting taste sensations.
Crafted with care and attention to detail, this tea box features classic Madura favourites, including Premium Blend, Earl Grey, Green Tea, Green Tea & Australian Lemon Myrtle, English Breakfast, and Pure Assam. Each cup of tea is like an imaginary voyage, allowing you to escape the stresses of daily life and indulge in a moment of pure relaxation.
Our Wooden Tea Box is not only an excellent gift for the tea lover in your life but also a stylish and attractive addition to any home. This reusable tea storage box will keep your favourite tea blends organised and fresh for an extended period. Made from high-quality materials, it is durable and long-lasting, providing you with years of enjoyment.
Experience the joy of tea with our Wooden Tea Box and explore the world of taste and relaxation. Order now and discover your new favourite tea blend.
Share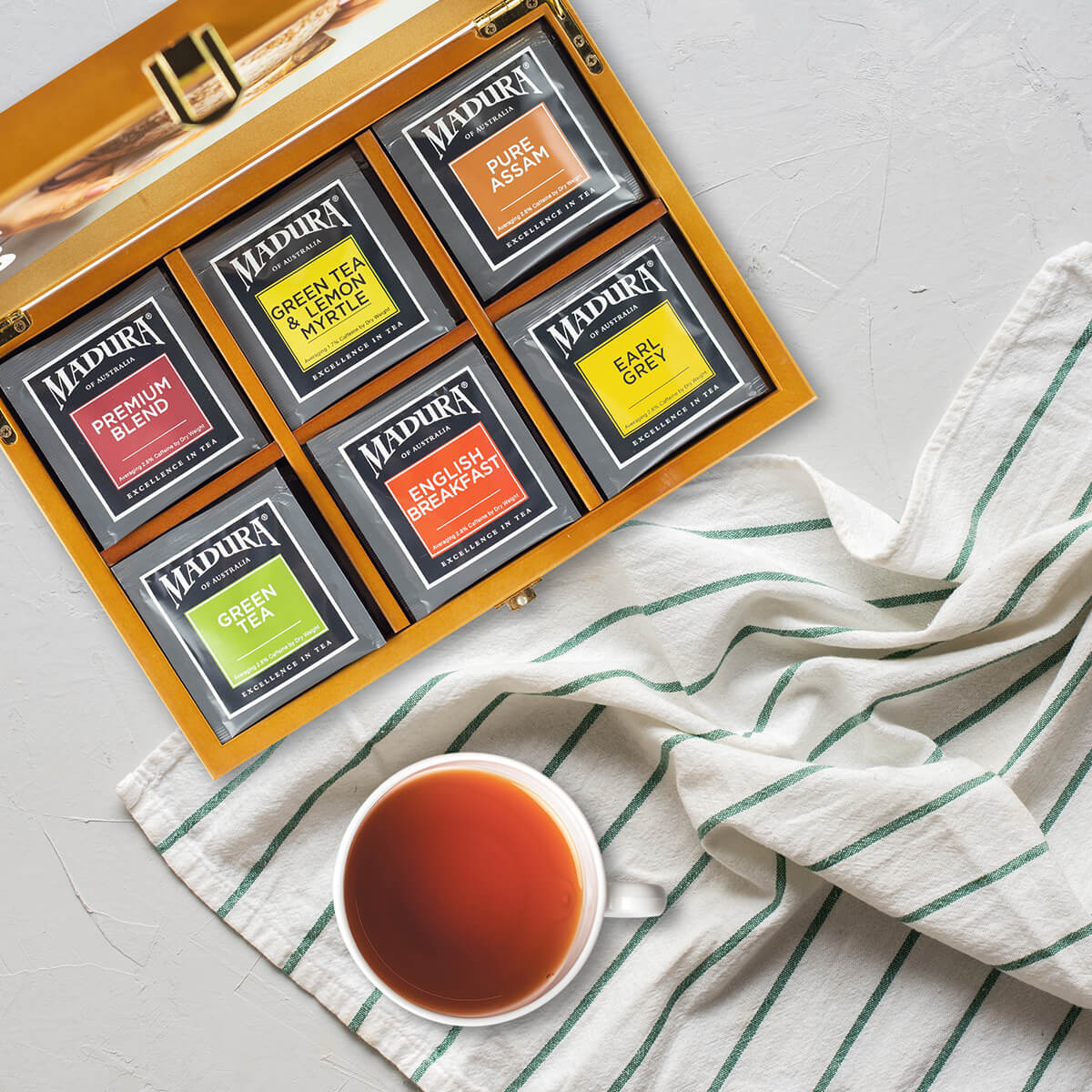 Love Madura Tea
Really enjoy the different teas and the whole ethical principles of this company.
Bought the Tea Box for my SIL as a Birthday gift. She loved it !!
Box Full of Brewtiful Tea.
a very well made and presented tea box.
Perfect addition to the kitchen counter and looks very stylish too.
Plenty of "wow, love that" comments as well.
Gift box
I purchased this for my daughter and son in law as a gift with an idea to try my Madura tea as they know how much I love it.
My son in law is an avid tea drinker always trying new flavors, I had always told him this was the best, and Australian!!!
The box is lovely, adds some class to the benchtop area, he was thrilled and is enjoying it.
Treasured item
I love the quality of the tea chest and the variety of tea inside it. New flavour exposures appreciated.