Green Tea & Jasmine 80 Enveloped Tea Bags
Regular price
Sale price
$11.90 AUD
$0.14
per
serve
Unit price
per
Out of stock
Experience the delicate blend of green teas and fragrant jasmine flowers with every sip of our naturally flavoured Green Tea & Jasmine. A popular choice among tea drinkers, this refreshing tea can be enjoyed any time of day, promoting relaxation and enjoyment. Treat yourself to a moment of serenity with this exquisite blend.
80 Serves per Packet
Brewing Instructions

Boil fresh, ideally filtered water
Let water cool slightly
250mL hot (80-85°C) water per cup
1 Green Tea & Jasmine bag per cup
(+1 bag if brewing in a pot)
Steep for 3-4 minutes

Enjoyed without milk
Ingredients

Green Tea, Jasmine Flowers
Origin

Packed with care, by us on our Northern NSW Farm in Australia.

Pack Info

Height: 156 mm
Width: 90 mm
Depth: 120 mm
Unit Barcode: 9389978004588
Carton Barcode: 19389978007364
Madura Code: FGJE80
Storage

Store in an airtight container, away from light, odour and moisture.
Share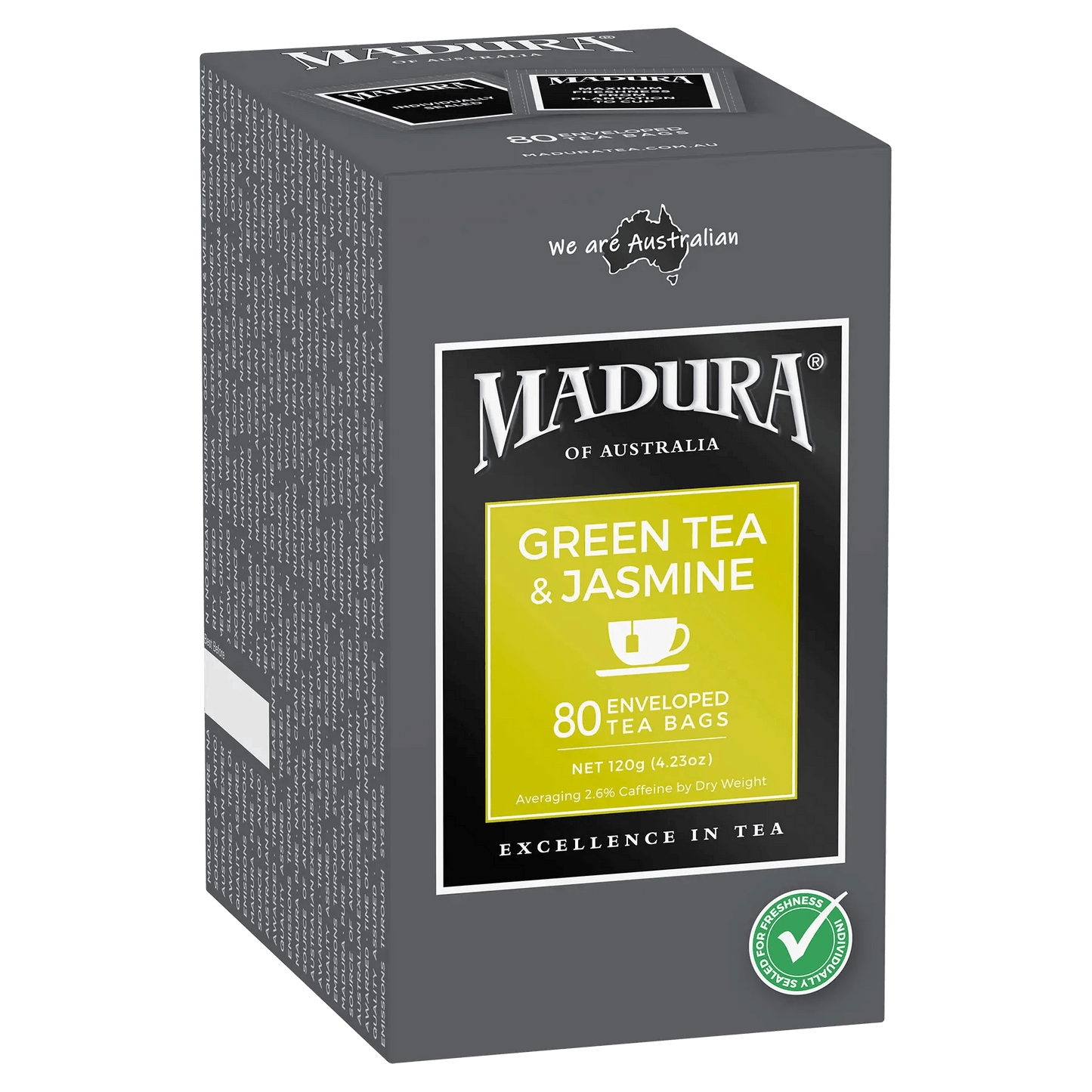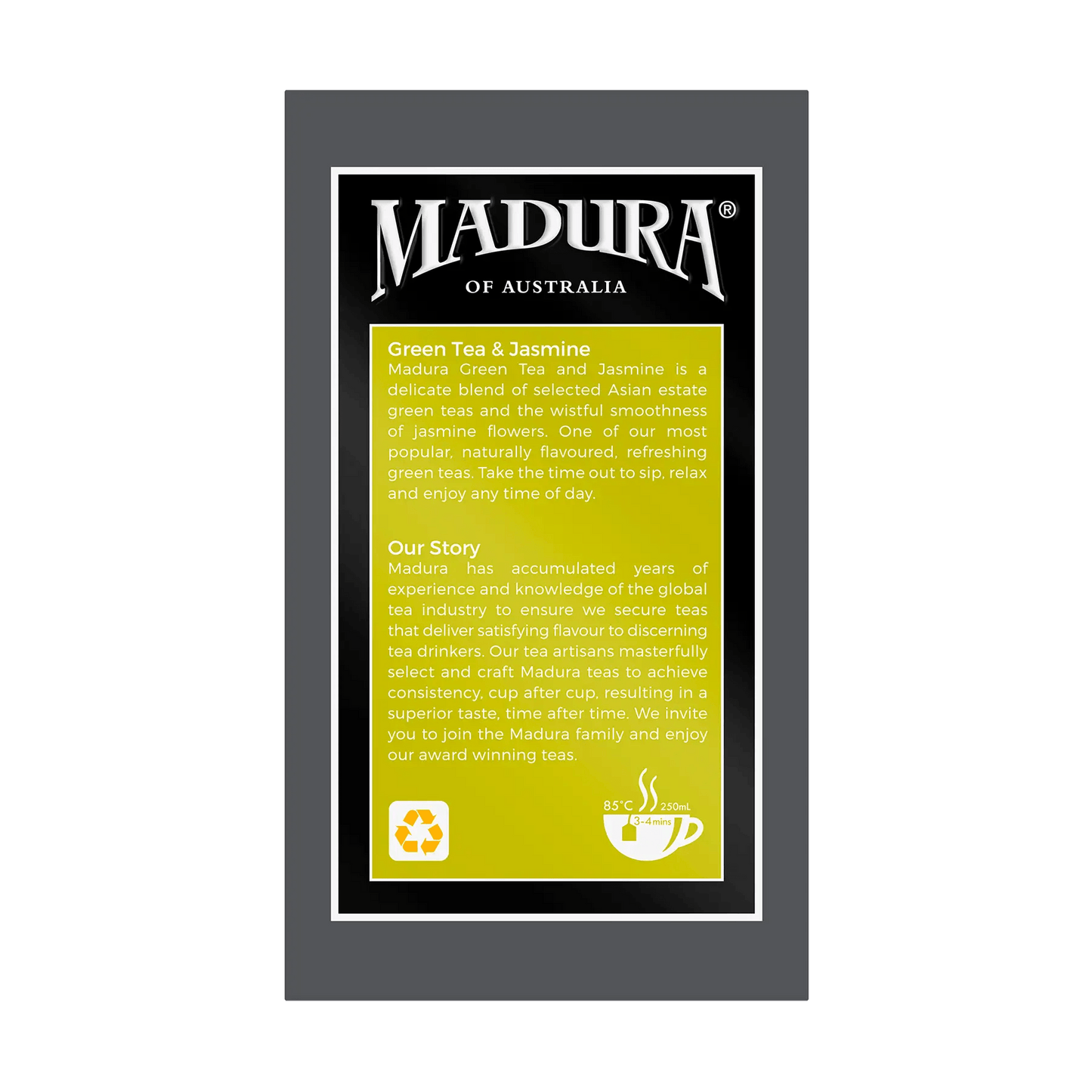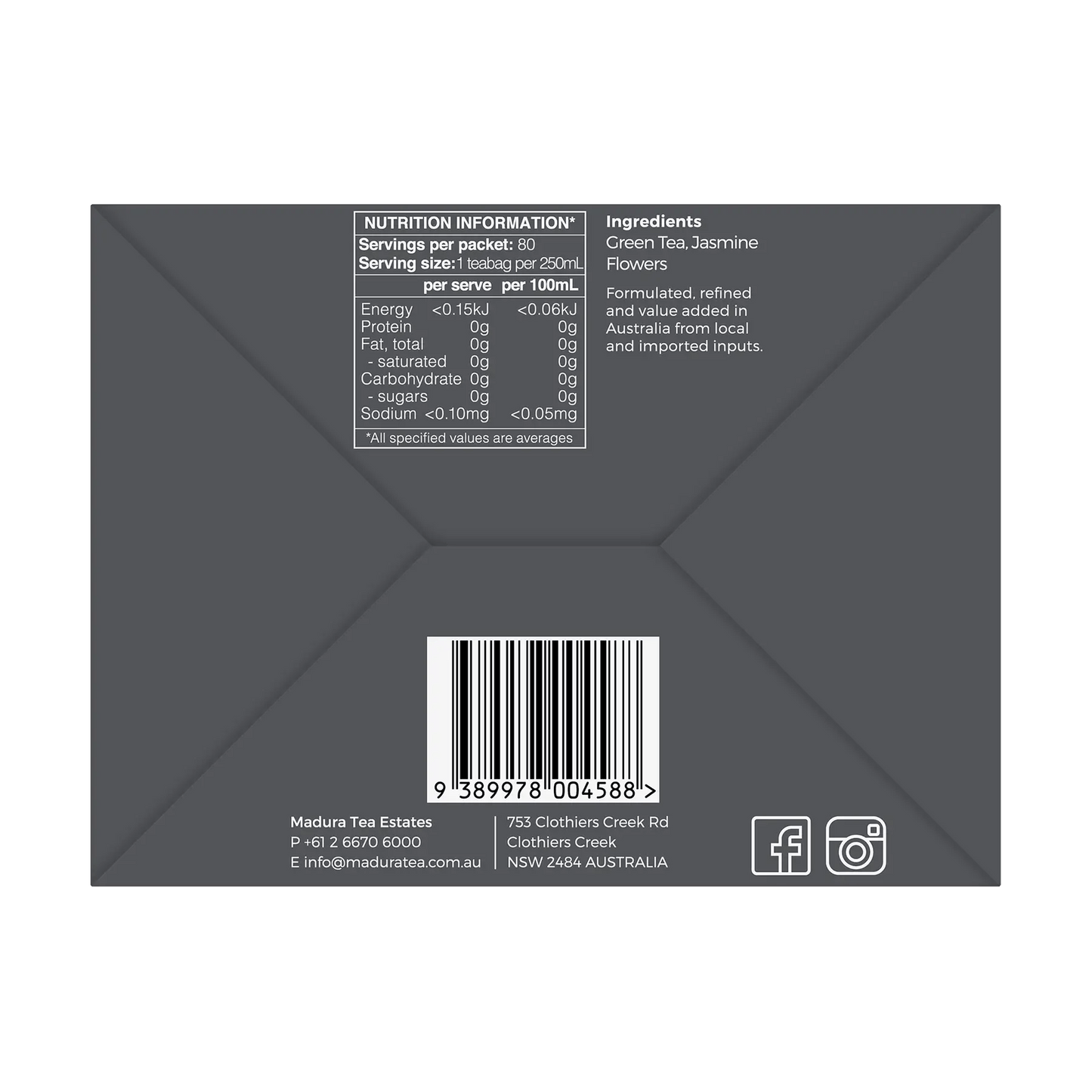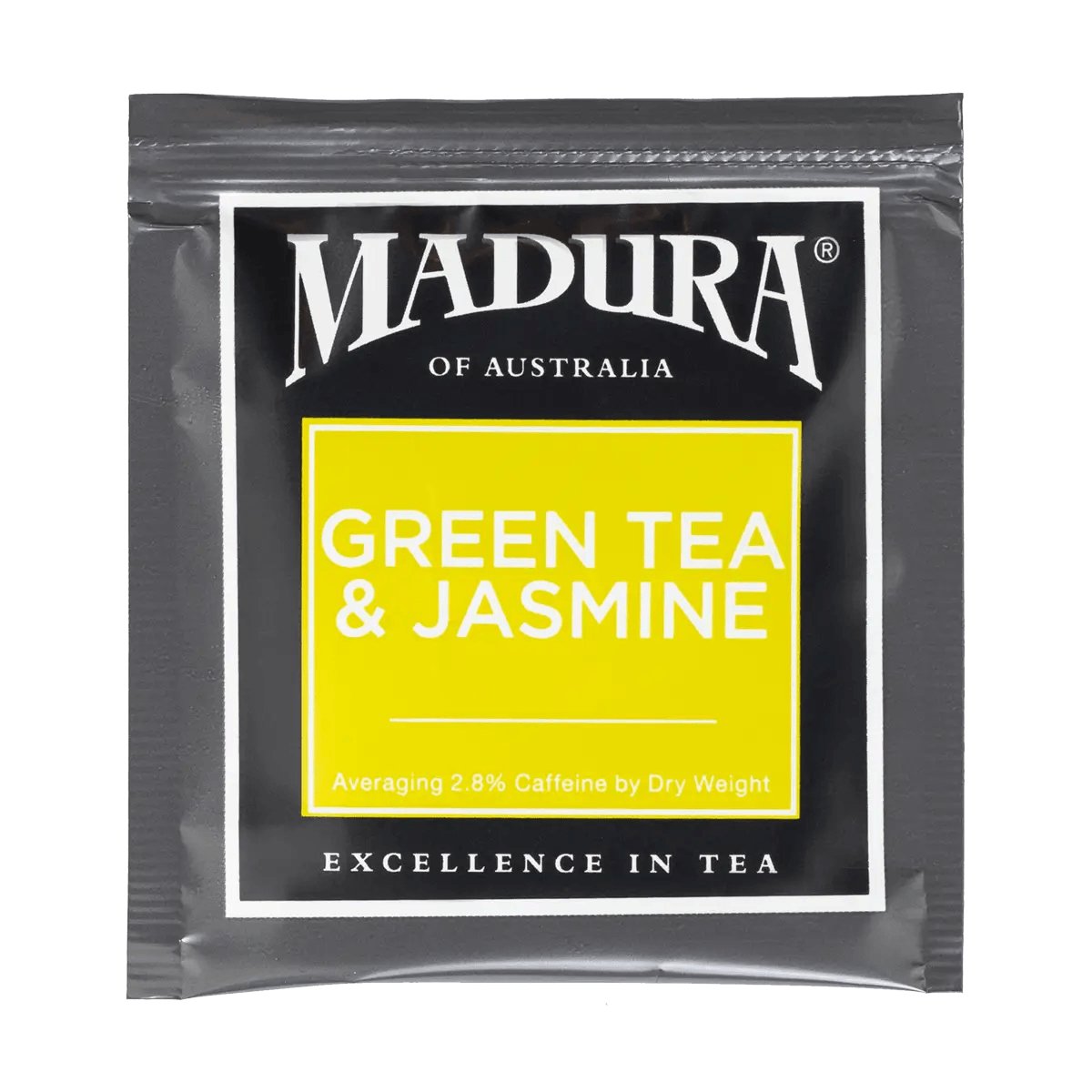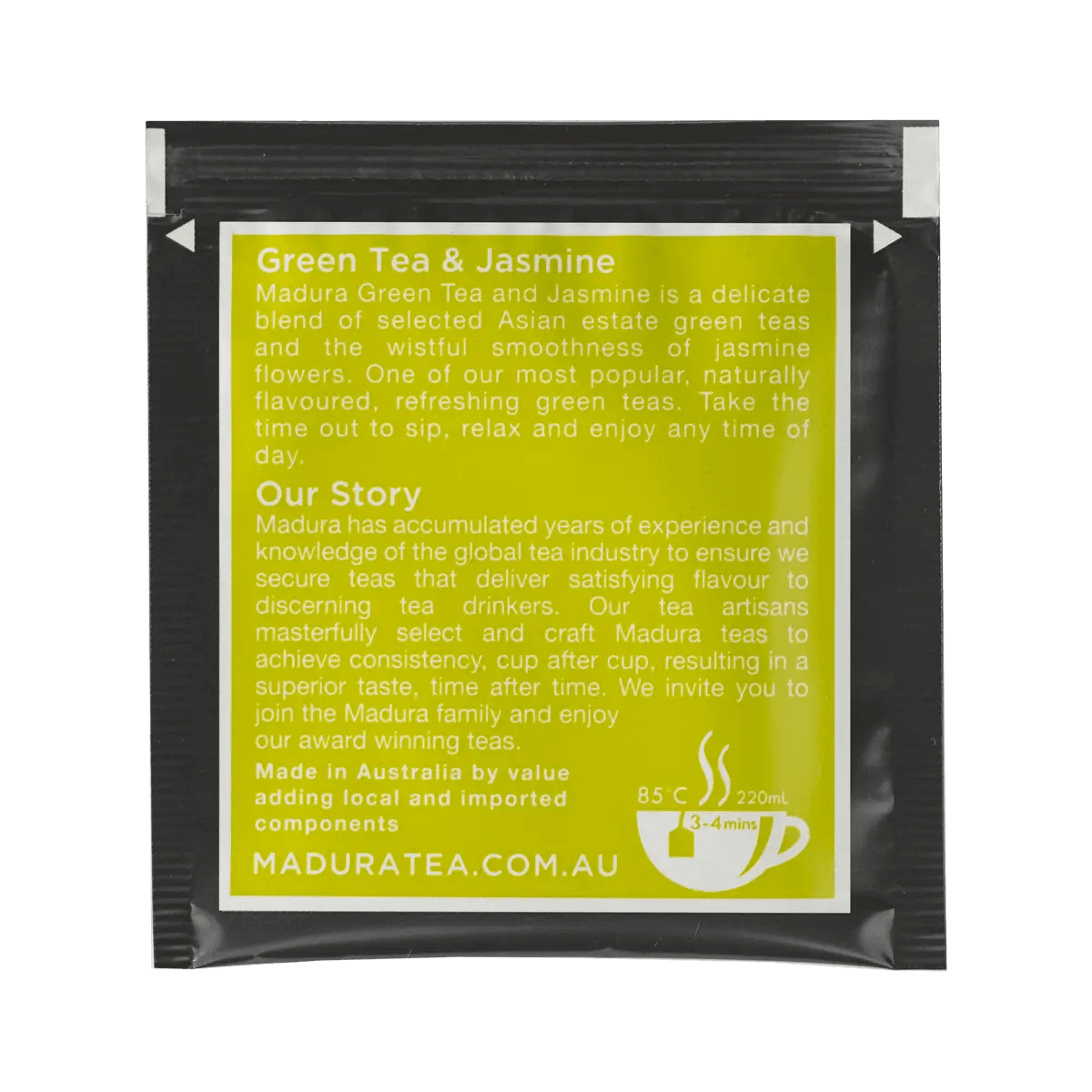 People also liked - Gift Hampers for under your tree!
The start of a beautigul friendship
I initially bought this tea from Woolworths and when they stopped carrying it I contacted Madura directly. Not only could I buy this delicate beverage online but found the rest of their wonderful range and have been shopping straight from them for several years now.
Green tea and jasmine
Our favourite tea for anytime of the day, either not or cold.
My family love the tea. Glad I found it.
I expected not to like this tea, but it is surprising how it grows on you.
I only purchased this tea because of a good review, expecting not to like it, however, it is surprising and the taste grows on you. Making it another favourite for myself, usually with a little honey.
Love my Madura Green & Jasmine tea
Sooooo in love with this tea. I was so happy to discover this treasure in stock!! Perfect for any time of the day & so refreshing & soothing. As usual the staff at the Madura shop are so welcoming & kind! Can't wait to go back & try a few others. Thank you
Best jasmine bag blend
This is a regular treat for me - one of the best jasmine and green blends I've found in a teabag.
Everyday favourite
Love this tea and drink it every day as my go-to. Have been buying it for years and have always been happy with the quality and taste. Delivery is consistently fast too. Only downside is that each tea bag is individually wrapped in plastic, which is so wasteful. They used to be wrapped in paper which was better than the plastic option, although it would be best if they weren't wrapped at all (however I assume this is for cafe/restaurant purposes).
Green with jasmine
Love the taste of this amazing product
Love this tea
This brand of Jasmine Green Tea is my favourite - I would highly recommend it!