Green Tea & Australian Lemon Myrtle 80 Enveloped Tea Bags
Regular price
Sale price
$11.90 AUD
$0.14
per
serve
Unit price
per
Out of stock
Savour the taste and healthful benefits of our Green Tea & Australian Lemon Myrtle blend with 80 enveloped tea bags. The perfect harmony of South Asian green tea, Australian estate tea, and Australian Lemon Myrtle provides a refreshing taste and natural antioxidants, along with anti-viral properties. This powerful tonic for wellness is a delicious and convenient way to enjoy the 'superfood of the bush' and enhance your well-being.
80 Serves per Packet
Brewing Instructions

Boil fresh, ideally filtered water
Let water cool slightly
250mL hot (80-85°C) water per cup
1 Green Tea & Lemon Myrtle bag per cup
(+1 bag if brewing in a pot)
Steep for 3-4 minutes

Enjoyed without milk
Ingredients

Green Tea, Australian Lemon Myrtle
Origin

Packed with care, by us on our Northern NSW Farm in Australia.

Pack Info

Height: 156 mm
Width: 90 mm
Depth: 120 mm
Unit Barcode: 9389978004571
Carton Barcode: 19389978007357
Madura Code: FGAE80
Storage

Store in an airtight container, away from light, odour and moisture.
Share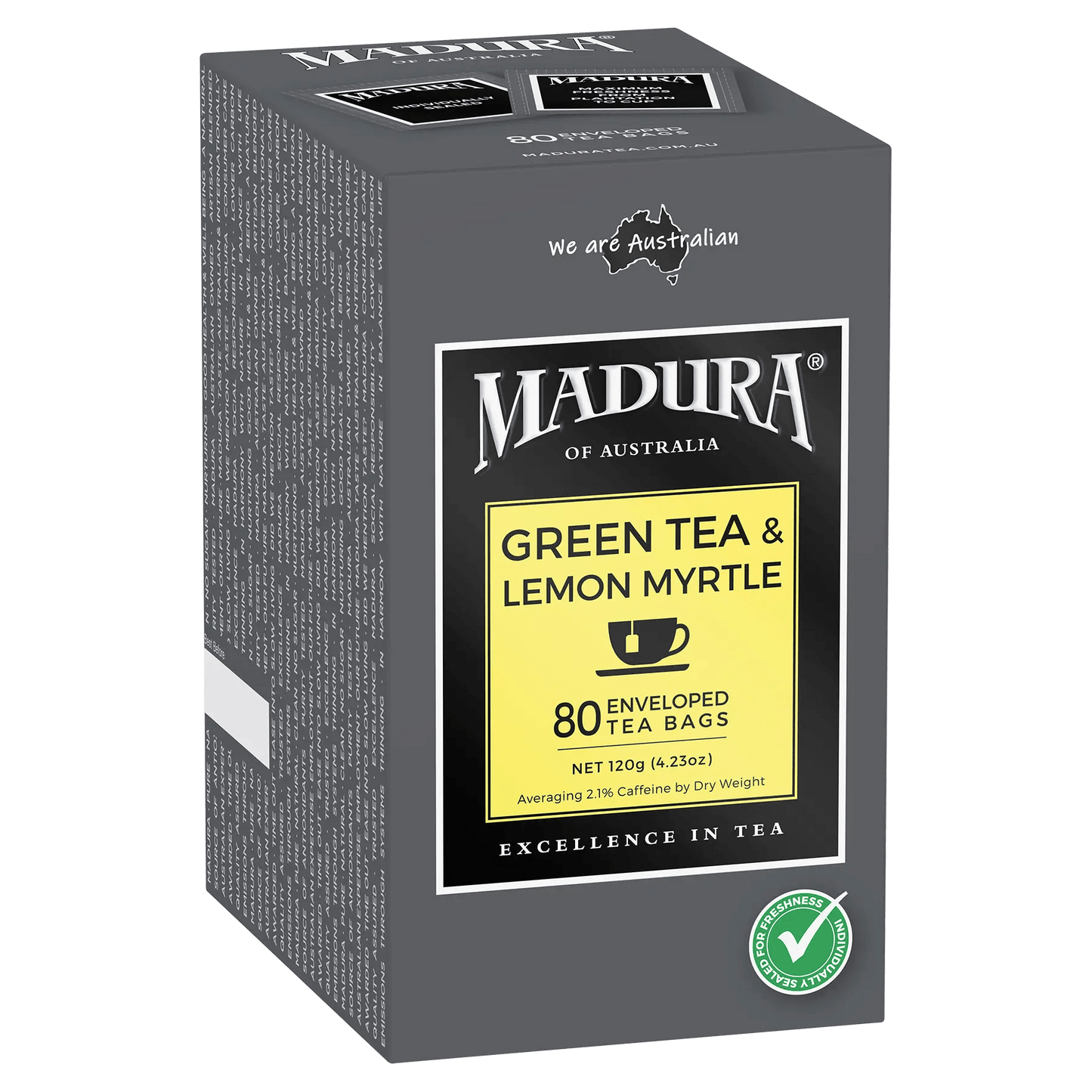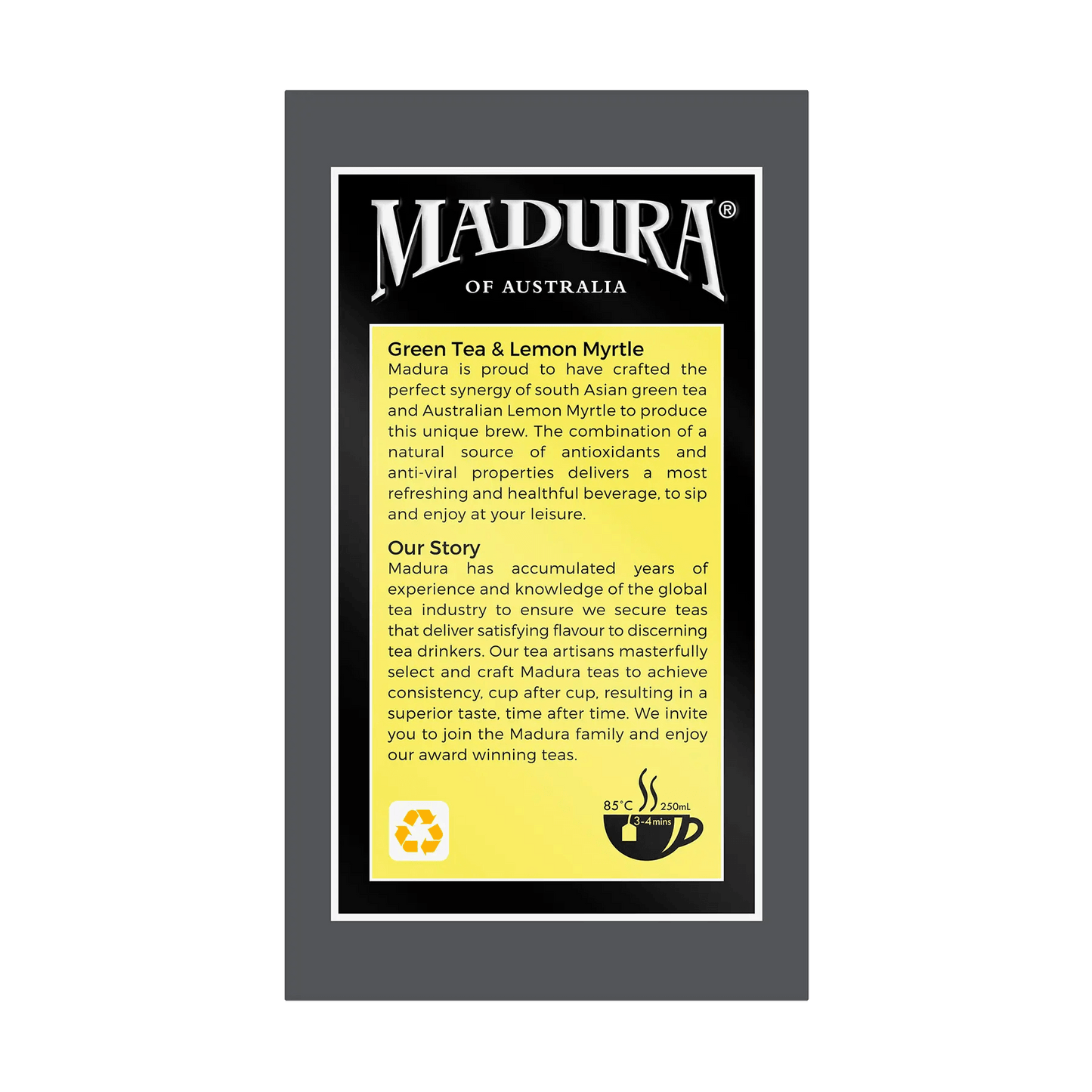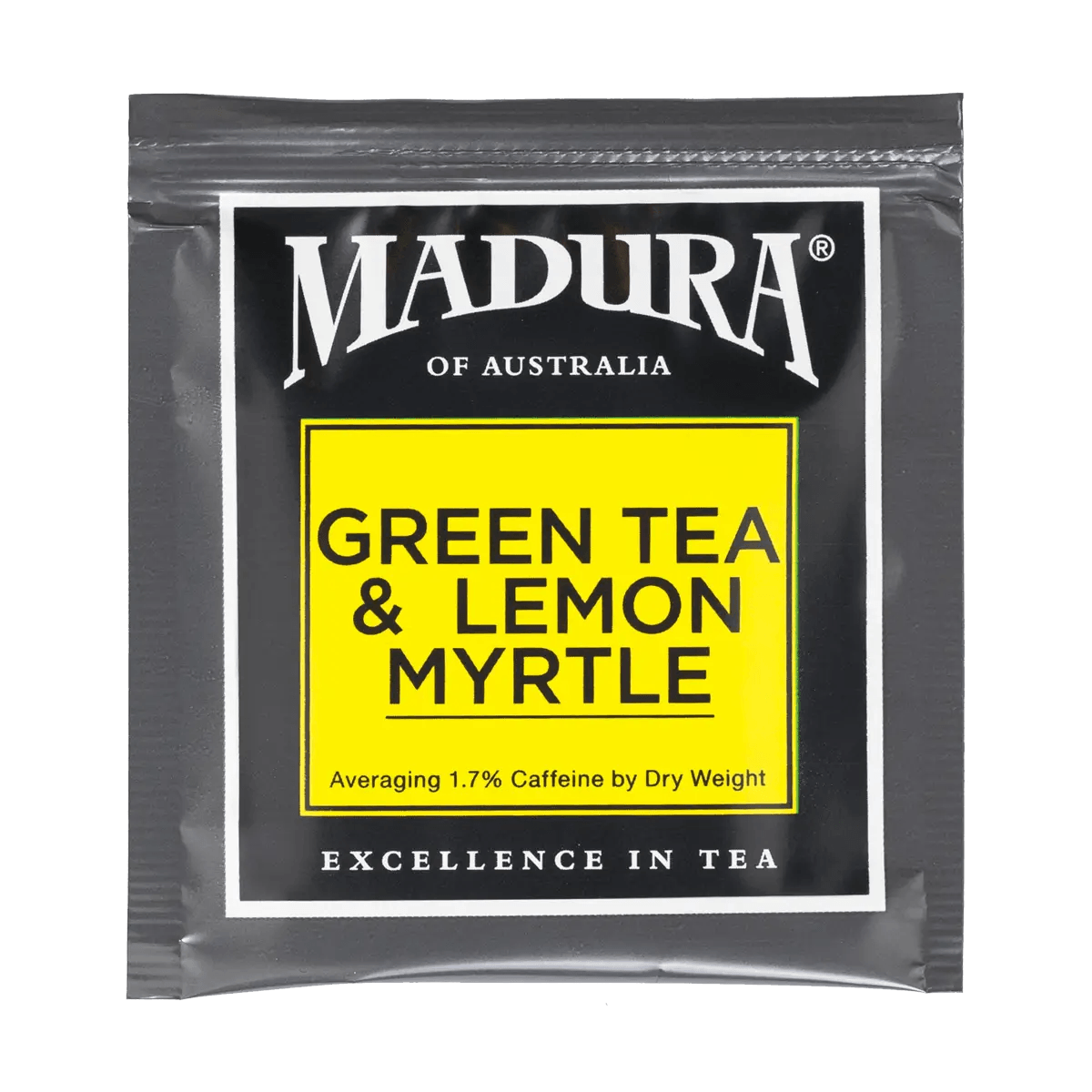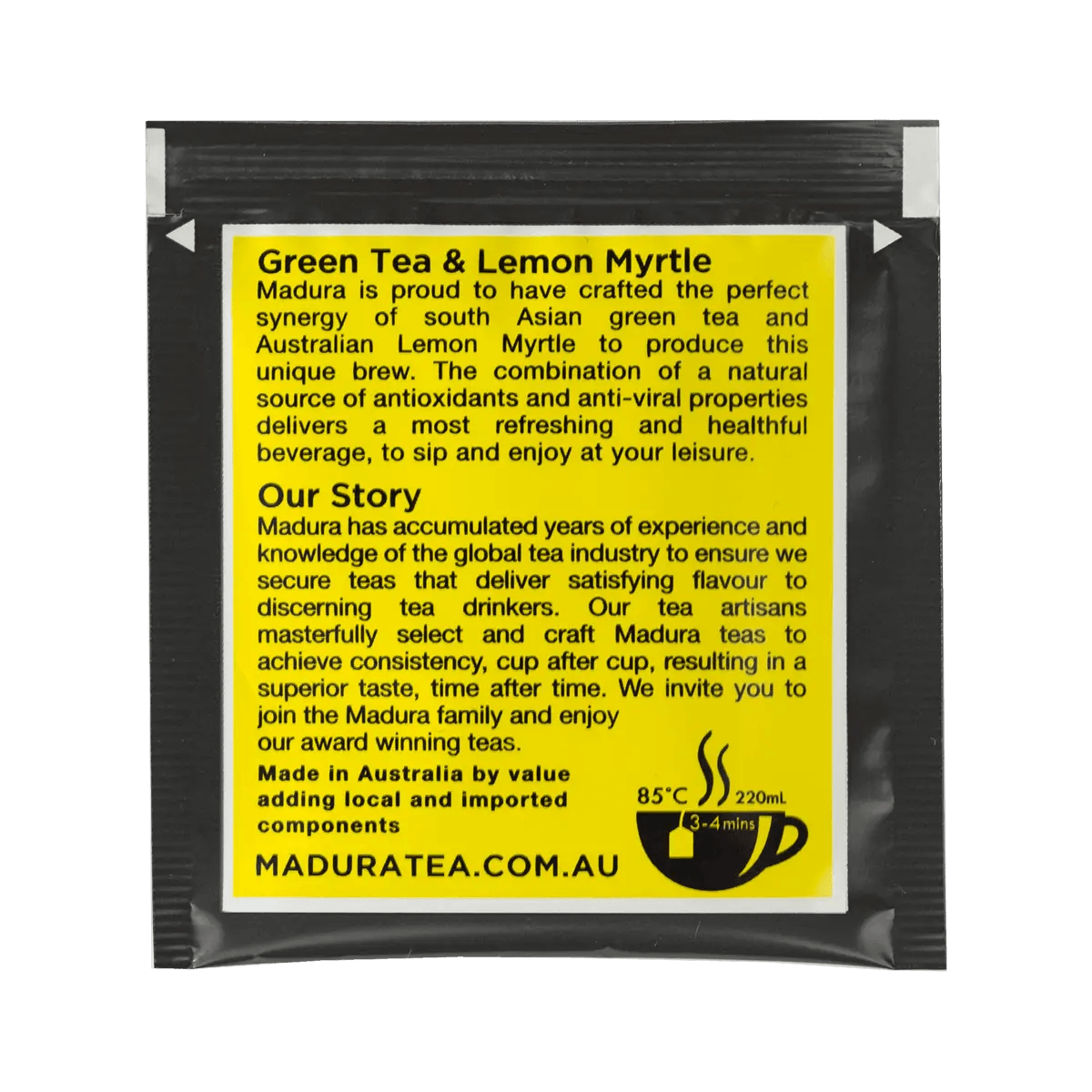 People also liked - Gift Hampers for under your tree!
My favourite Madura green
I love gentle lemony taste and aroma of this brew. I often add a slice of lemon into my cuppa - no need with this tea! Loved by all my guests and thorougly recommended.
Try something new
Madura's Green Tea with Lemon Myrtle .
Always pays to try something new now and then and this one sure does not disappoint..
Love it.
But for a friend
I had purchased a sample pace of teas some time ago. My friend tried the Green Tea & Lemon Myrtle and was hooked. Whenever she comes for a visit after a stressful day at the office, this is the tea that 'hits the spot!
Lovely refreshing flavour
A lovely twist on green tea. Such a refreshing flavour and no bitter after taste. I love it!
Great flavour!
Love the lemon myrtle flavour - it's always a favourite of mine.
Great flavour!
I found this a good strength green tea without being over powering.
Green Tea with Lemon Myrtle
This tea is very refreshing and great for a mid afternoon pick me up. It is also great in the evening as a relaxing beverage before bed.
Have been purchasing and drinking this tea for years and years.