Green Tea 80 Enveloped Tea Bags
Regular price
Sale price
$11.90 AUD
$0.14
per
serve
Unit price
per
Out of stock
Enjoy the goodness of our Madura Green Tea with the convenience of enveloped tea bags. Our soothing blend of the purest south Asian leaves provides a delicate flavour and reliable source of antioxidants, aiding good digestion and contributing to healthier living.
80 Serves per Packet
Brewing Instructions

Boil fresh, ideally filtered water
Let water cool slightly
250mL hot (80-85°C) water per cup
1 Green Tea bag per cup
(+1 bag if brewing in a pot)
Steep for 3-4 minutes

Enjoyed without milk
Origin

Packed with care, by us on our Northern NSW Farm in Australia.

Pack Info

Height: 156 mm
Width: 90 mm
Depth: 120 mm
Unit Barcode: 9389978004564
Carton Barcode: 19389978007340
Madura Code: FGTE80
Storage

Store in an airtight container, away from light, odour and moisture.
Share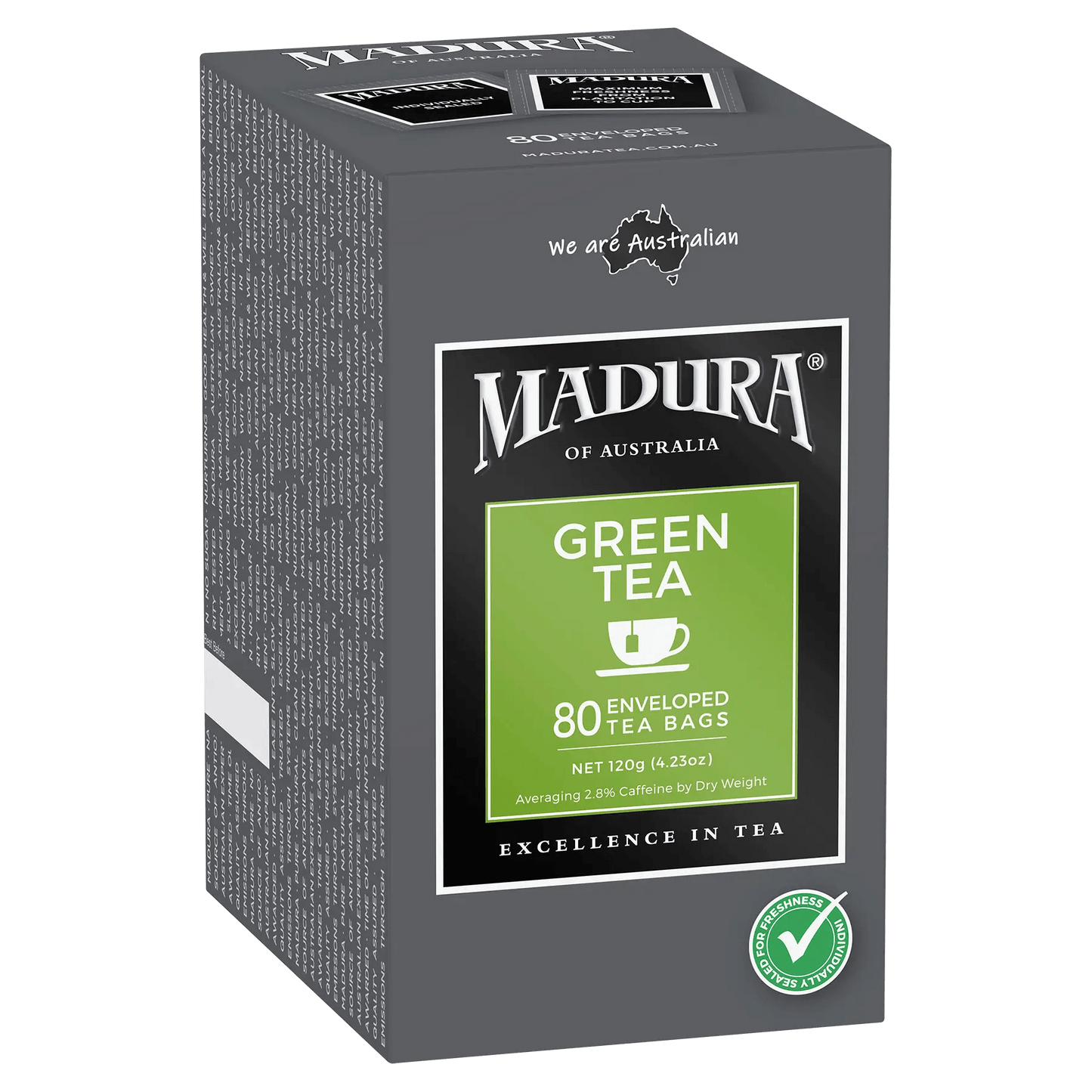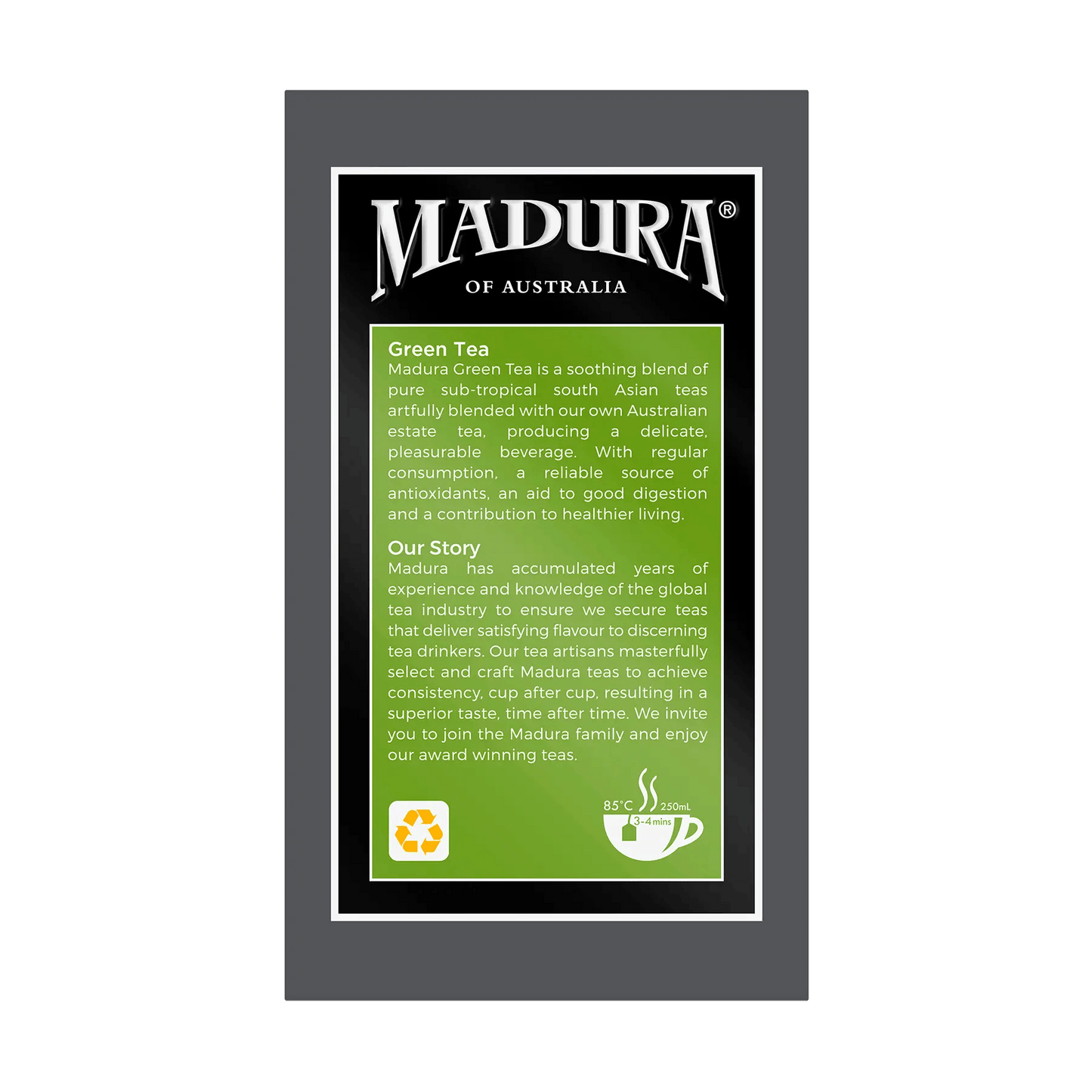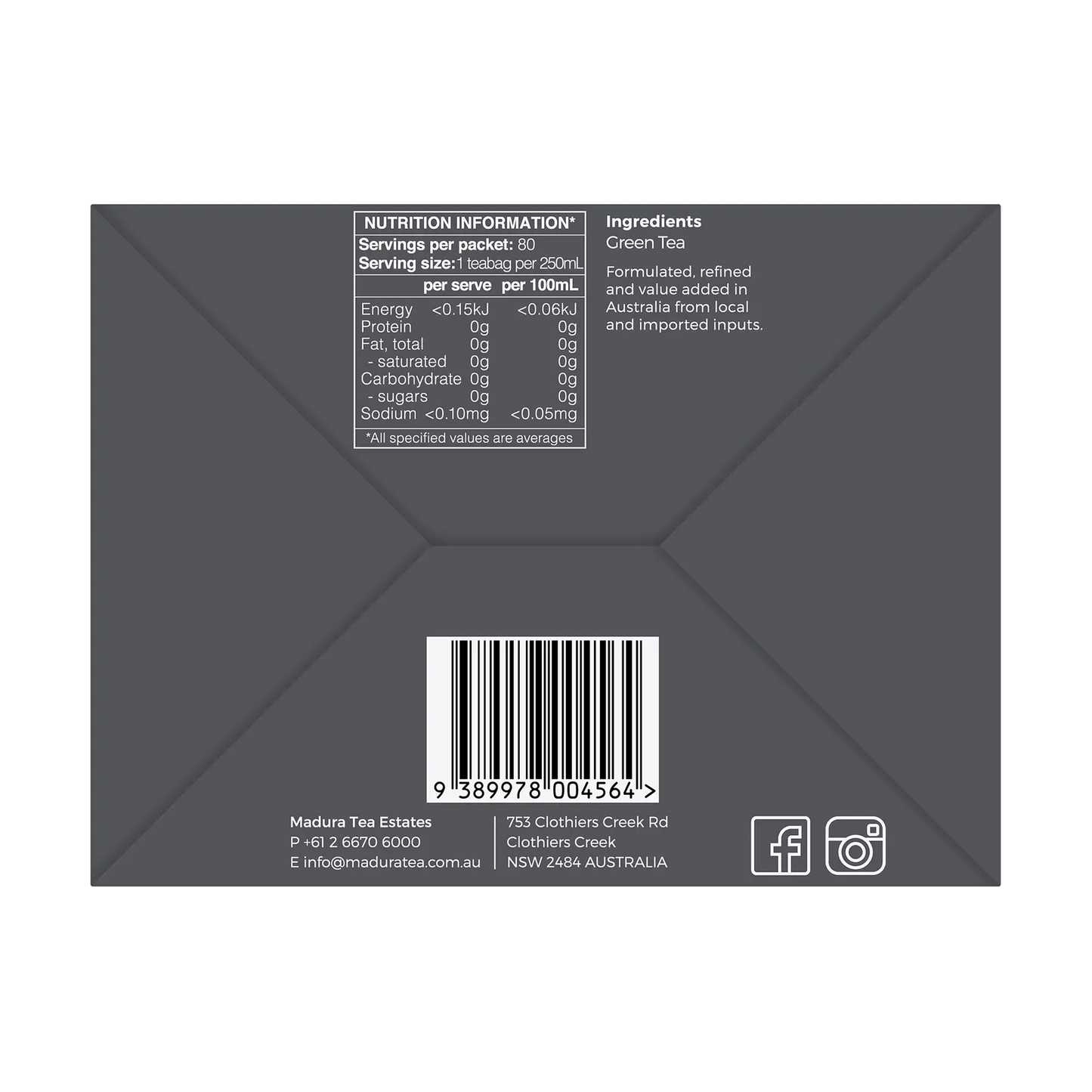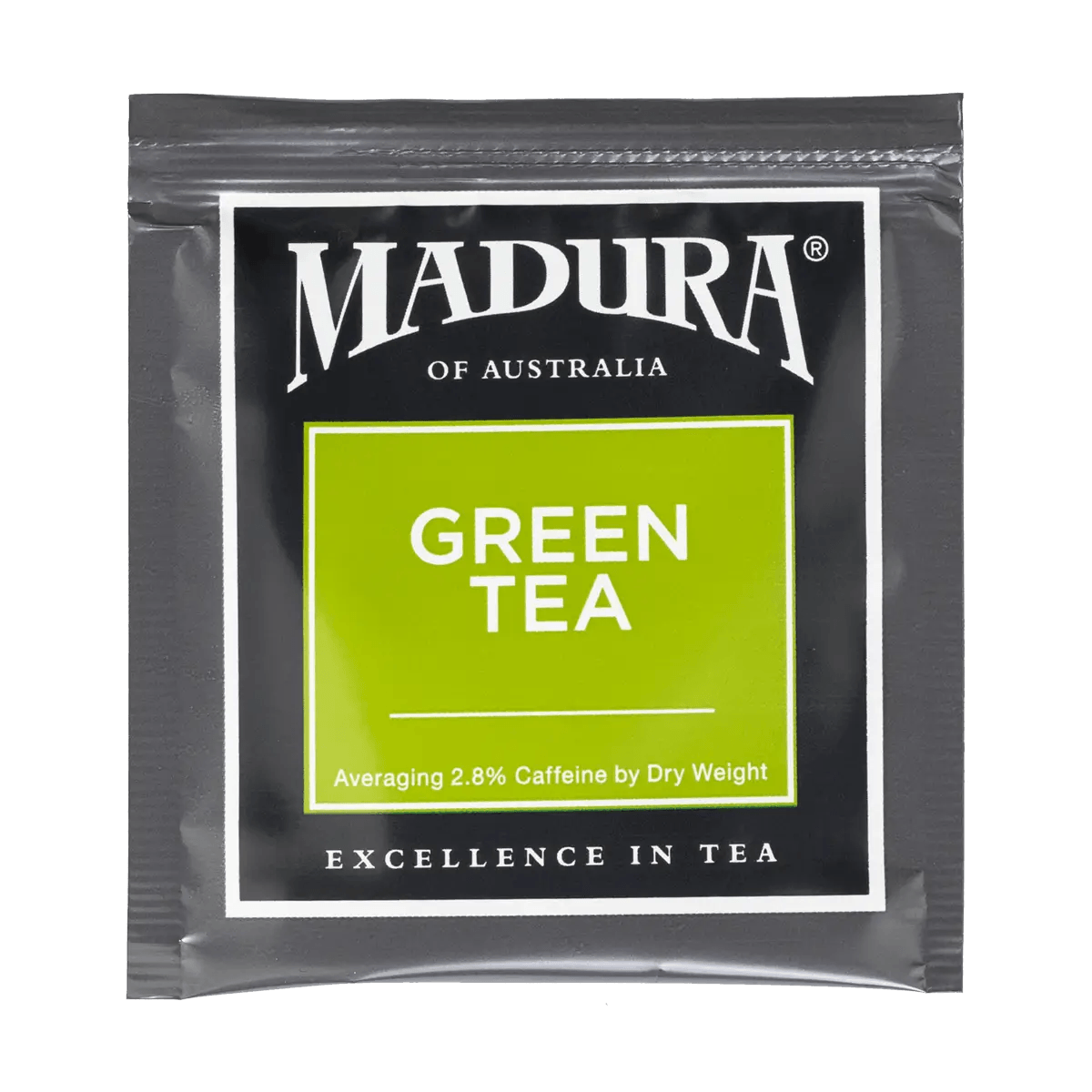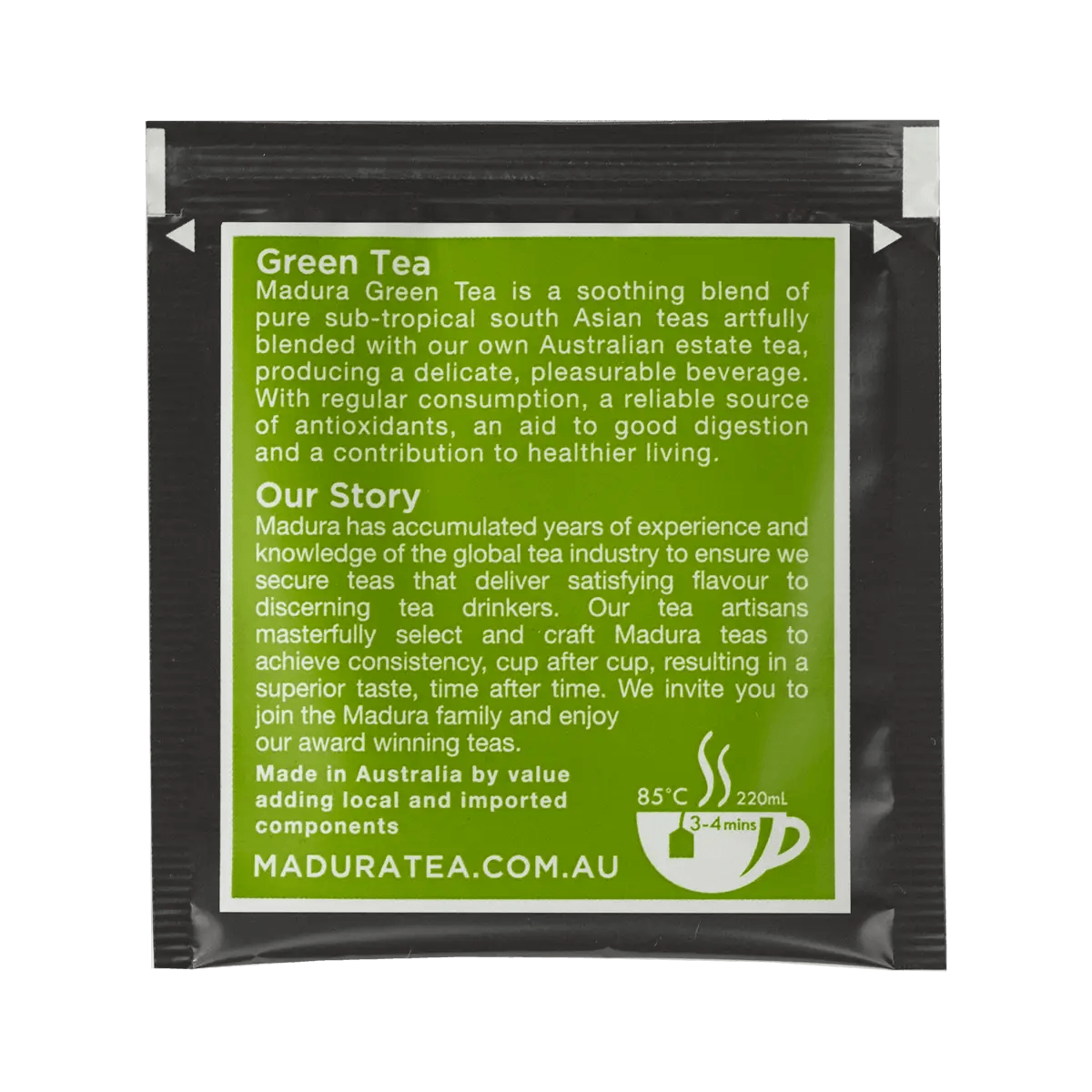 People also liked - Gift Hampers for under your tree!
Green Tea
i was introduced to this tea some years ago in Oz ,brought some home to NZ and have been buying it eversince on line .Great Tea great service .
Superb green tea. A great way to finish a meal.
Best tasting Green Tea
I drink this Green Tea with rainwater and in my opinion, it's some of the best tasting Green Tea when used with rainwater. Strong enough without being too strong.
We always have plenty of green tea in the pantry. It is our favourite. We take Madura tea with us when we travel in our caravan or overseas.
Fresh taste and look
Packaging is fresh, tea is fresh. We upgraded all the tea to Madura in our accommodation business; we felt our guests deserved the best.
no resedues please.
originally when i purchased green tea there were no redues at the bottom of the cup and apart from the that is why i continued to purchased it from you as well as the very good flavour. of late the resedues in the cup continue to be thre. could you sift it a little. thank you.
The BEST Green Tea
This is the only Green Tea I will drink. It is not bitter, has a pleasant taste and it gets me going every single day. I take the foil envelopes with me when I travel too.