English Breakfast 50 Tea Bags
Regular price
Sale price
$5.65 AUD
$0.11
per
serve
Unit price
per
Out of stock
Start your day off right with our English Breakfast Tea, available in convenient 50-teabag packs. This blend of pure Sri Lankan and Indian leaves is the perfect balance of strength and flavour, making it a great choice for those who want a refreshing start to their day.
50 Serves per Packet
Brewing Instructions

Boil fresh, ideally filtered water
250mL hot (95-100°C) water per cup
1 English Breakfast tea bag per cup
(+1 bag if brewing in a pot)
Steep for 4-5 minutes
Origin

Packed with care, by us on our Northern NSW Farm in Australia.

Pack Info

Height: 156 mm
Width: 90 mm
Depth: 61 mm
Unit Barcode: 089978000069
Carton Barcode: 19389978001331
Madura Code: REBB50A
Storage

Store in an airtight container, away from light, odour and moisture.
Share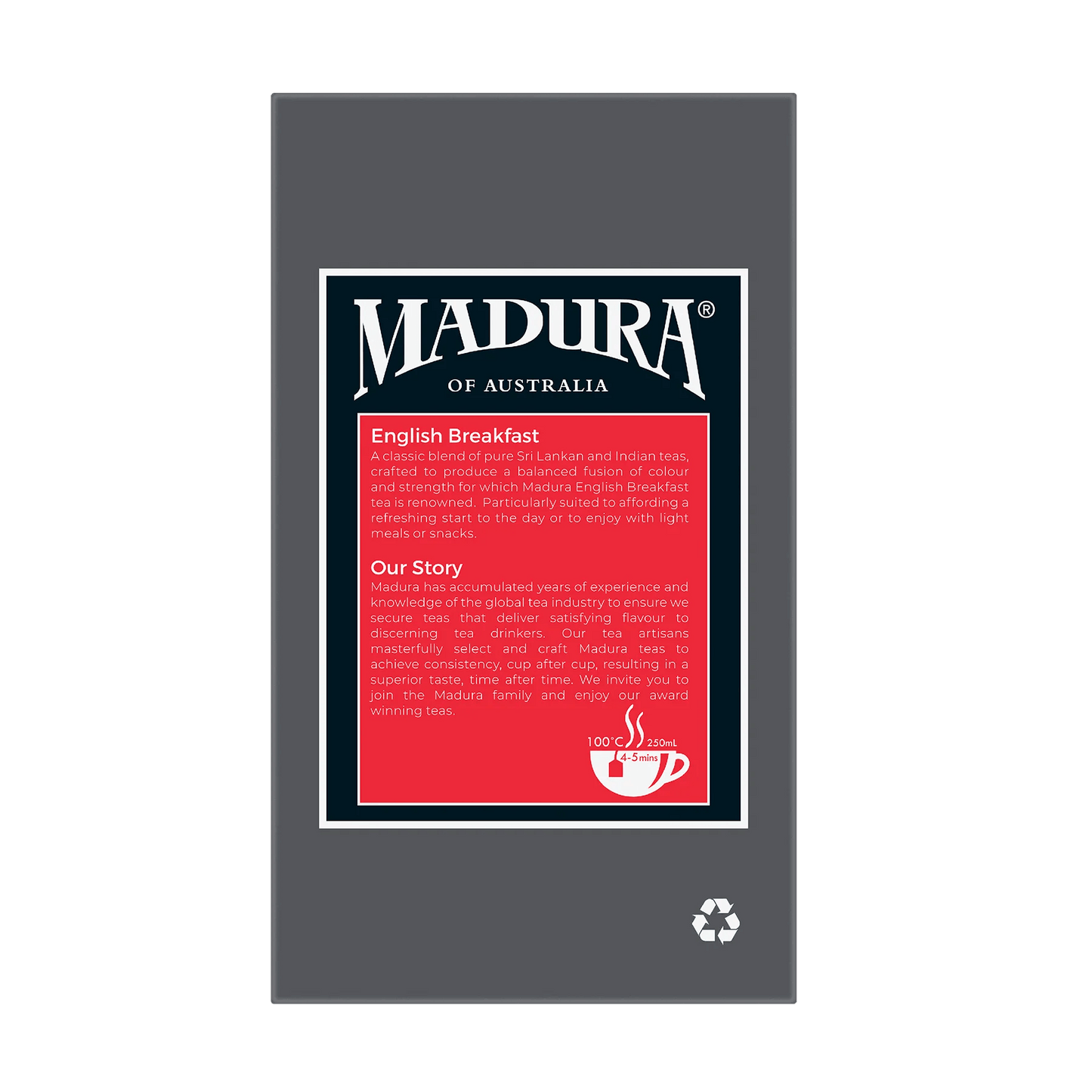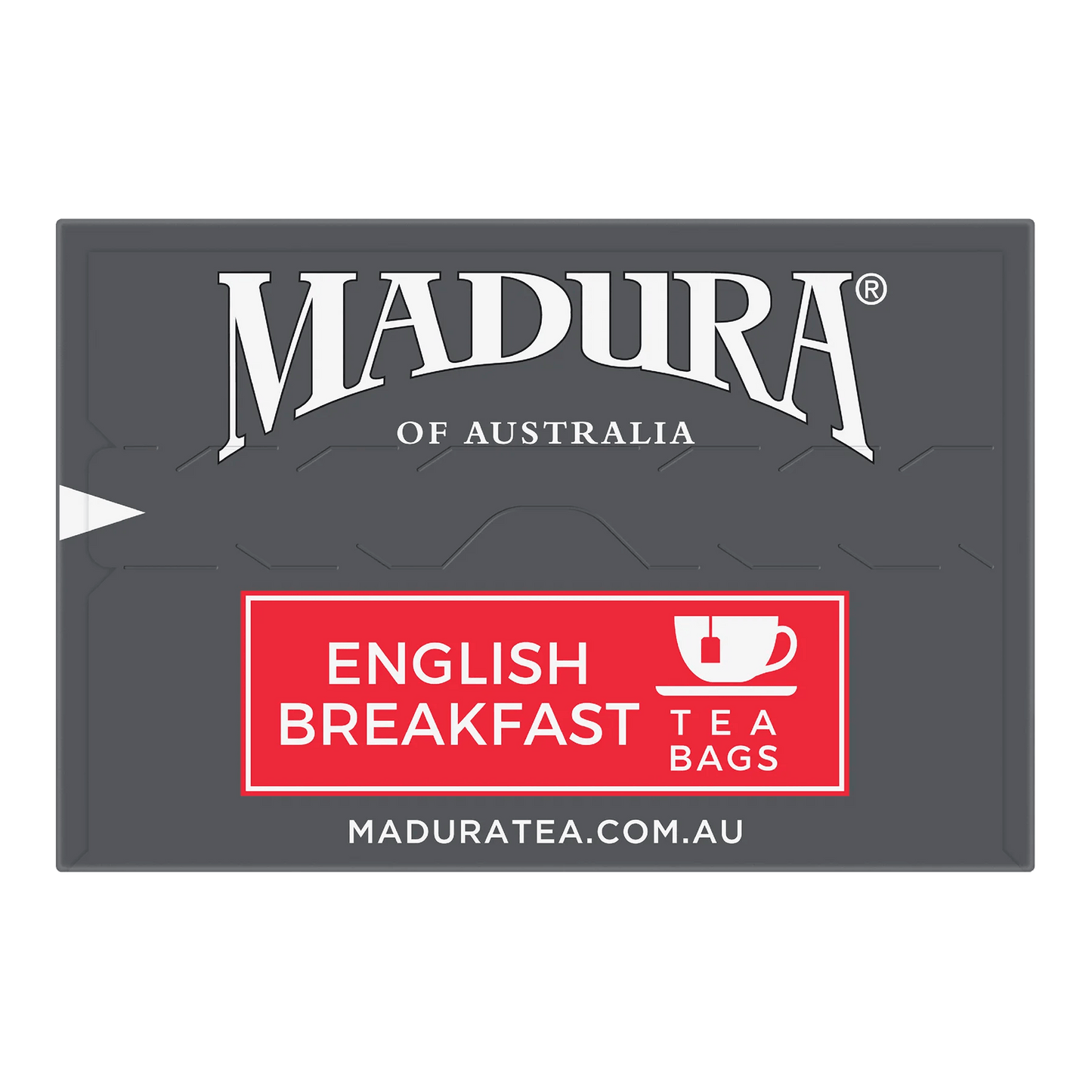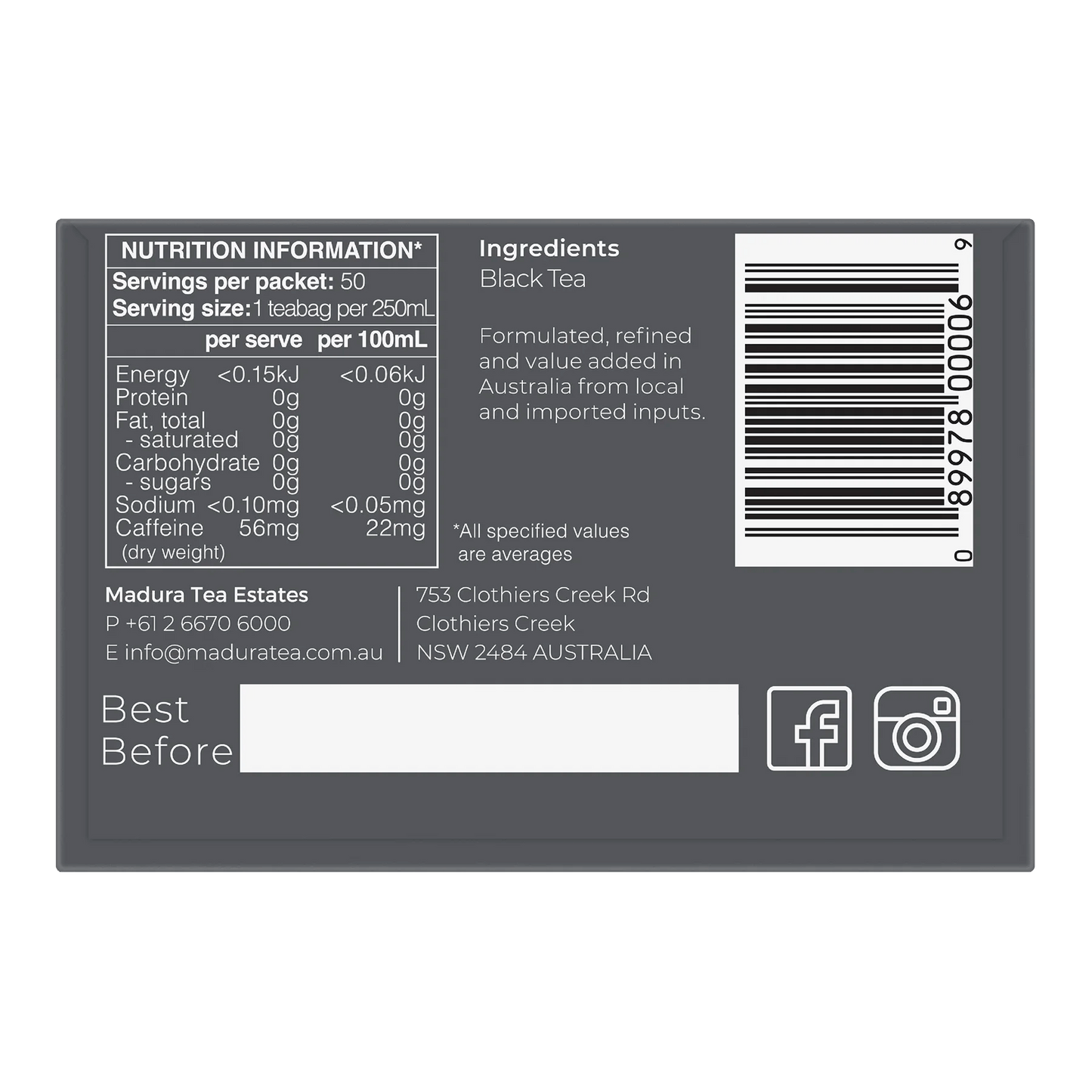 People also liked - Gift Hampers for under your tree!
Madura tea English Breakfast
I enjoy the English Breakfast tea and drink no other tea. Have been drinking the tea for about ten years and find that Madura English Breakfast the nicest. Would recommend the English Breakfast tea to anyone that enjoys a refreshing cup of tea.
Latest purchase
It was a top up of the best tea bags it was nice to get a discount and cheaper in a carton of six as well as a discount
Madura tea bags
We received 2 boxes of tea bags which were in excellent condition. We have been purchasing Madura tea for some years where we have found the flavour is consistent and an excellent product.
English Breakfast tea a favourite
Madura English Breakfast is my regular 5-times-a-day tea. Its smooth taste and reasonable cost are pluses.
Best tea in my travels
Fresh tea, the best strong tea I've ever had!!
Wake up to Tea in Bed
Love this English breakfast tea by Madura - what better way to start your day?
English breakfast
Enjoy this at breakfast. Good start to the day
Murwillumbah treasure
Excellent flavour on our doorstep, so blessed. Service wonderful.