English Breakfast 200g Leaf Tea
Regular price
Sale price
$6.75 AUD
$0.08
per
serve
Unit price
per
Out of stock
Enjoy a classic English Breakfast tea experience with our 200g loose-leaf tea. Made with pure Sri Lankan and Indian leaves, this blend offers a balanced fusion of colour and strength, and is renowned for its refreshing taste.
80 Serves per Packet
Brewing Instructions

Boil fresh, ideally filtered water
250mL hot (95-100°C) water per cup
1 tsp English Breakfast per cup
+1 tsp for the pot
Steep for 5-6 minutes
Origin

Packed with care, by us on our Northern NSW Farm in Australia.

Pack Info

Height: 156 mm
Width: 90 mm
Depth: 61 mm
Unit Barcode: 089978000625
Carton Barcode: 19389978006213
Madura Code: REBL200A
Storage

Store in an airtight container, away from light, odour and moisture.
Share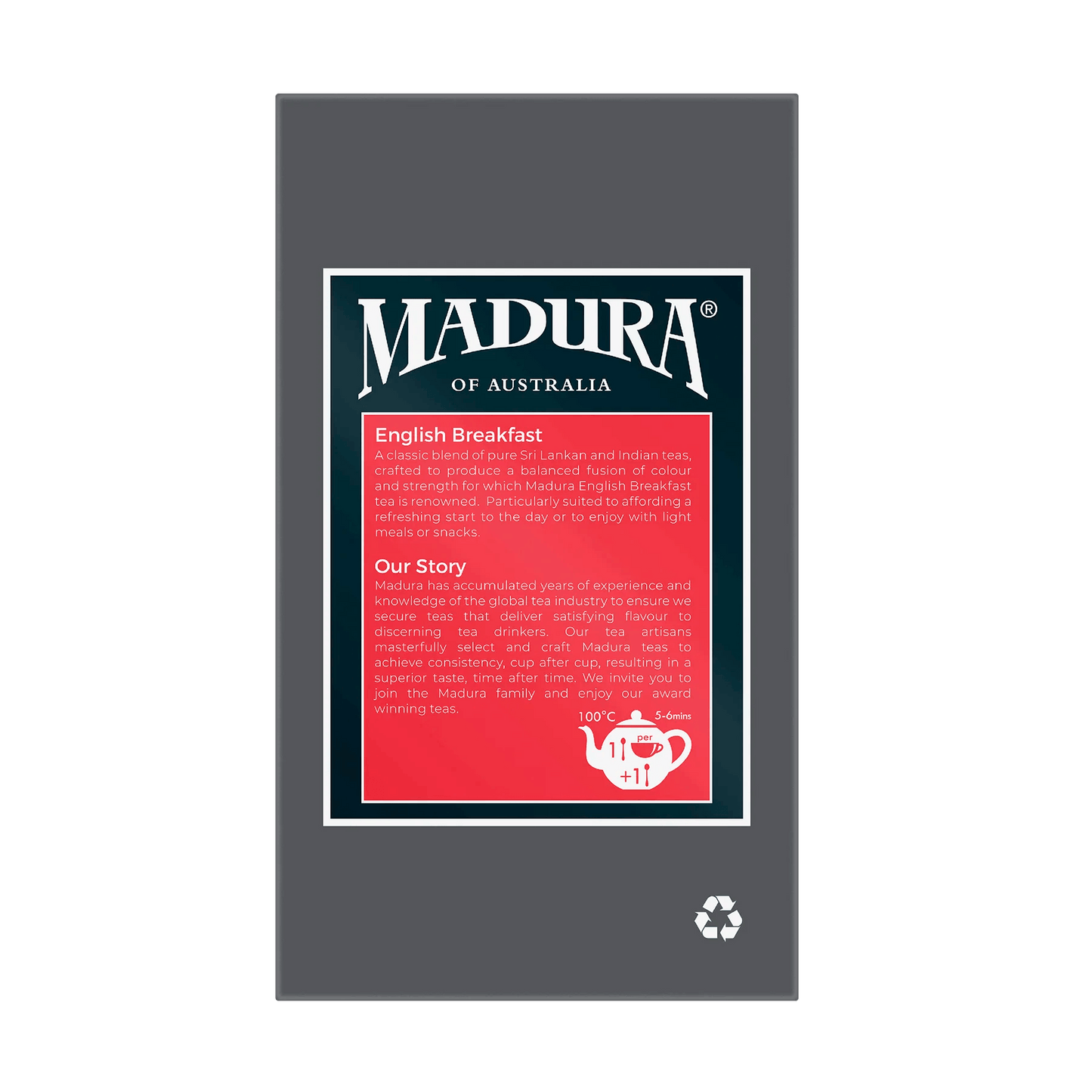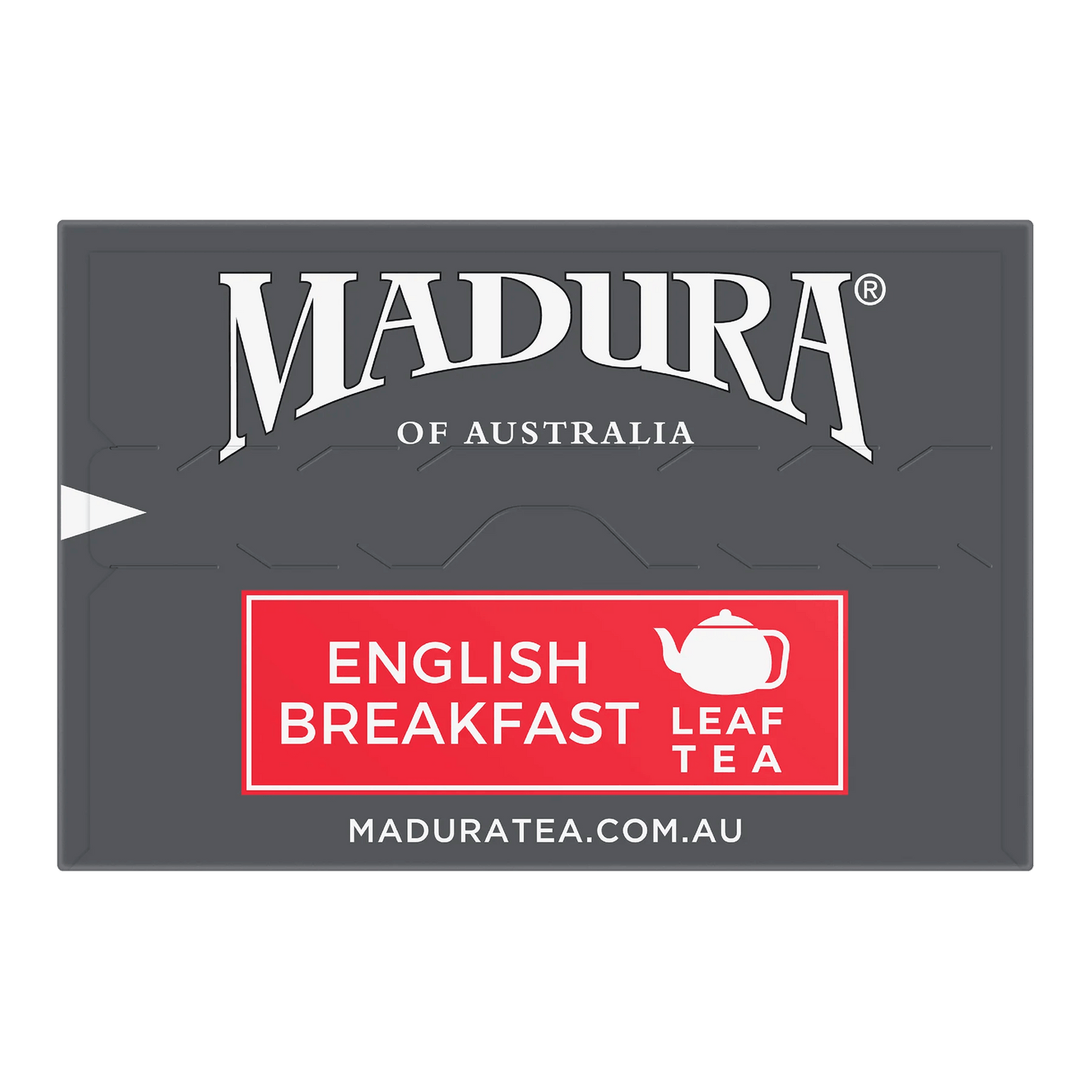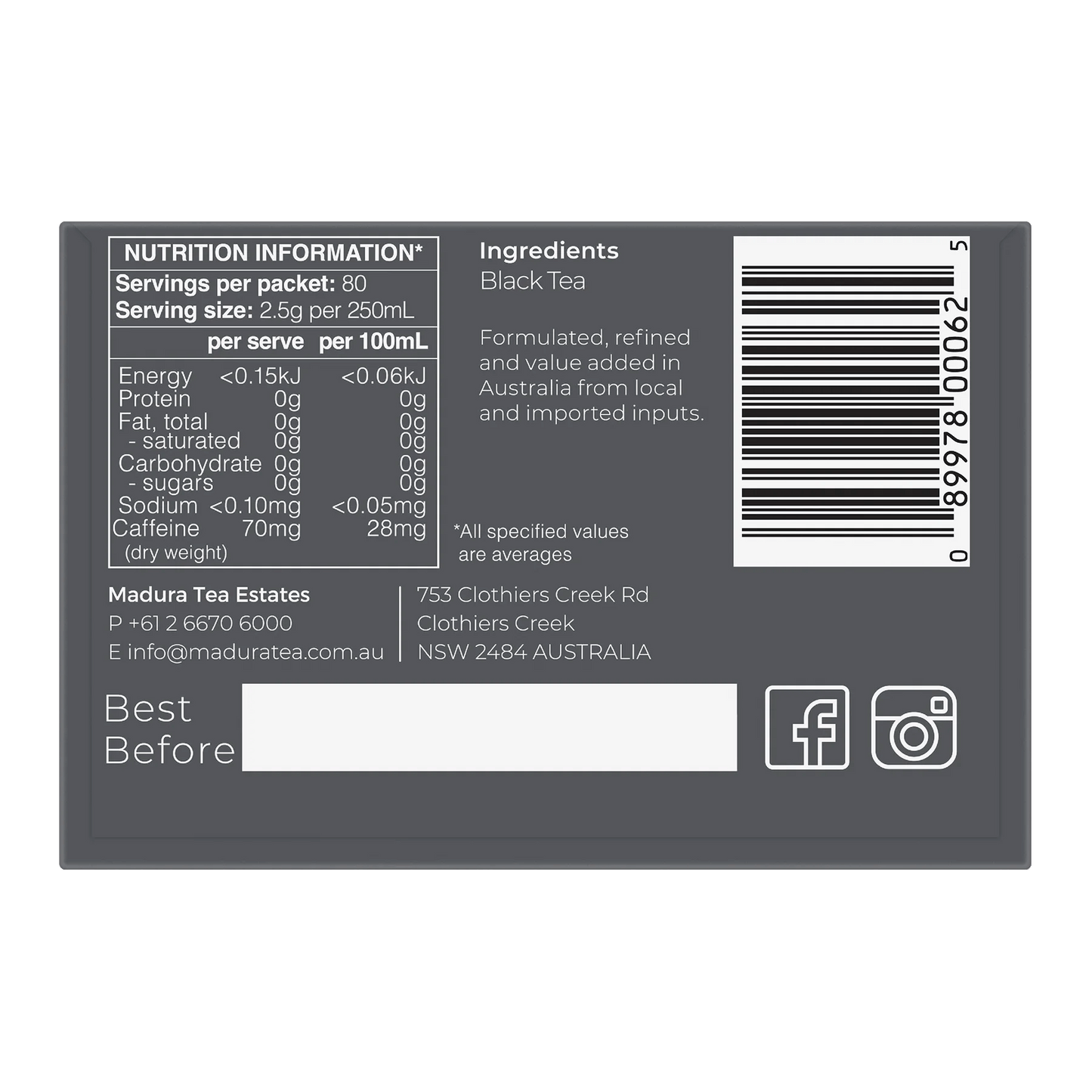 People also liked - Gift Hampers for under your tree!
madura the best tea
have used for years ,loose leaves are the best make the perfect brew
The only tea I drink
The is, without a doubt, the best loose leaf tea on the market. I used to get my mother to post it to me when I lived in England, the land of tea! You can't go wrong with this brew.
Any Time of Day
I thoroughly enjoy Madura English Breakfast Tea any time of day, but especially first thing in the morning and the last thing before bed. It's refreshing and relaxing at the same time. I like the convenience of online bulk purchase directly from Madura. I have been purchasing Madura English Breakfast Tea for several years and I will continue to do so.
We love Madura English Breakfast tea
We love Madura Teas and Madura English Tea teabags taste great without the slightly tingling sensation that you can sometimes get with teabags from other manufacturers.
The Morning Cuppa!
I love this tea! It is strong for the morning and as a matter of fact any time of the day.
It is full bodied without any bitterness. I know it is always fresh when I buy it direct and hasn't been sitting forever on a shelf.
It is my 'go to' tea! I highly recommend it, give it a try.
Relaxing mornings
Such a lovely tea for chilled mornings
Outstanding Leaf Tea.
We are dedicated tea drinkers and the only way to drink tea is with tea leaves and a china or ceramic teapot.
Madura English Breakfast and Madura Premium Blend are the teas we alternate between. Simply outstanding flavour, you cannot buy better in Australia.
Perfect blend
Great tea, refreshing but not too strong
Love this
Although I do prefer the Pure Assam a touch more, this tea is excellent.
English breakfast
best tea for breakfast, brunch or any time through
the day. Another great flavour to enjoy.