Earl Grey 80 Enveloped Tea Bags
Regular price
Sale price
$11.90 AUD
$0.14
per
serve
Unit price
per
Out of stock
Take pleasure in the sophistication and convenience of our Earl Grey 80 Enveloped Tea Bags. Our blend expertly balances the flavour of the tea with the citrus-orange fragrance of bergamot, delivering a refined and subtle taste experience. Crafted for the discerning tea drinker, our enveloped tea bags are perfect for a busy lifestyle.
80 Serves per Packet
Brewing Instructions

Boil fresh, ideally filtered water
250mL hot (95-100°C) water per cup
1 Earl Grey tea bag per cup
(+1 bag if brewing in a pot)
Steep for 4-5 minutes
Ingredients

Black Tea, Bergamot Flavours
Origin

Packed with care, by us on our Northern NSW Farm in Australia.

Pack Info

Height: 156 mm
Width: 90 mm
Depth: 120 mm
Unit Barcode: 9389978004540
Carton Barcode: 19389978007326
Madura Code: FEGE80
Storage

Store in an airtight container, away from light, odour and moisture.
Share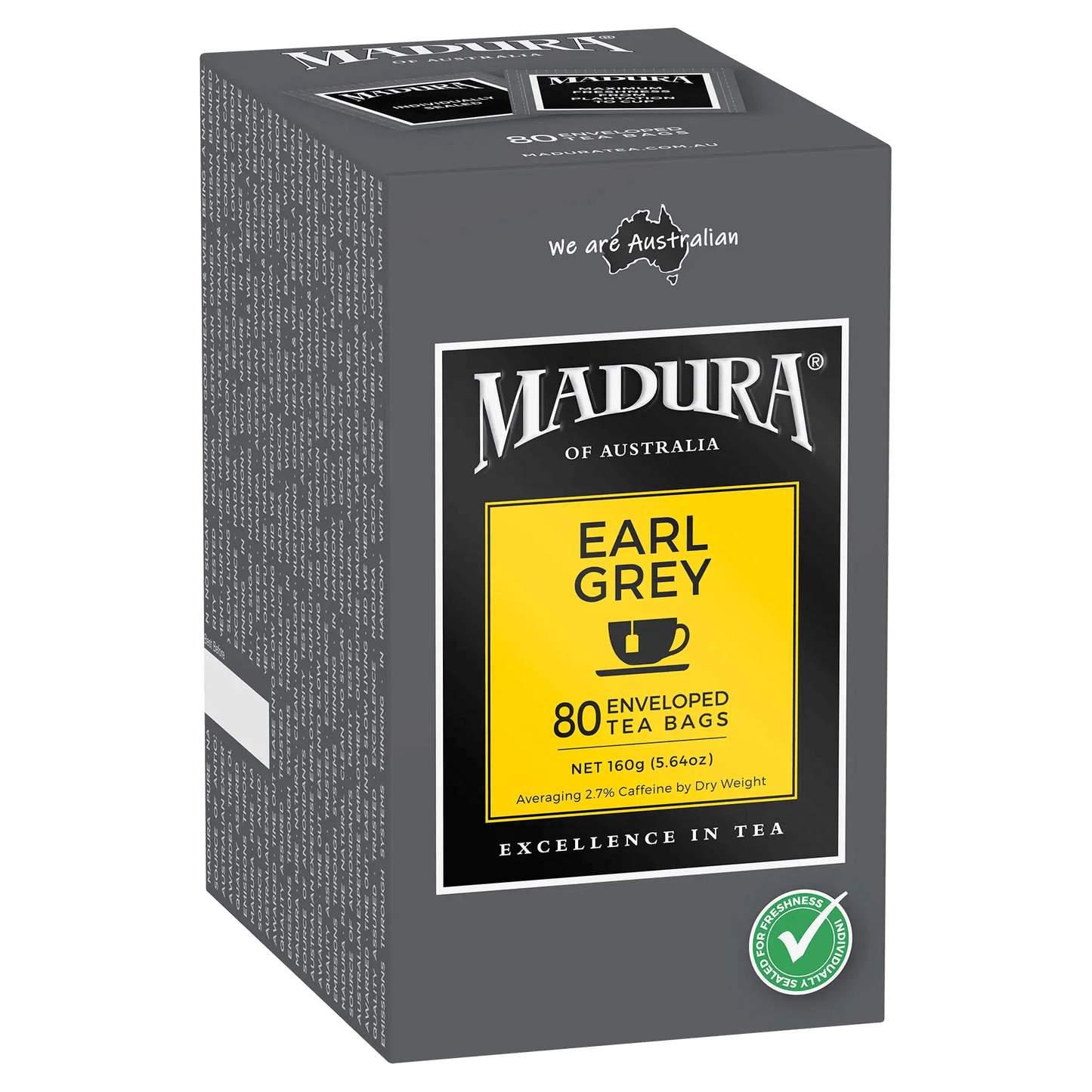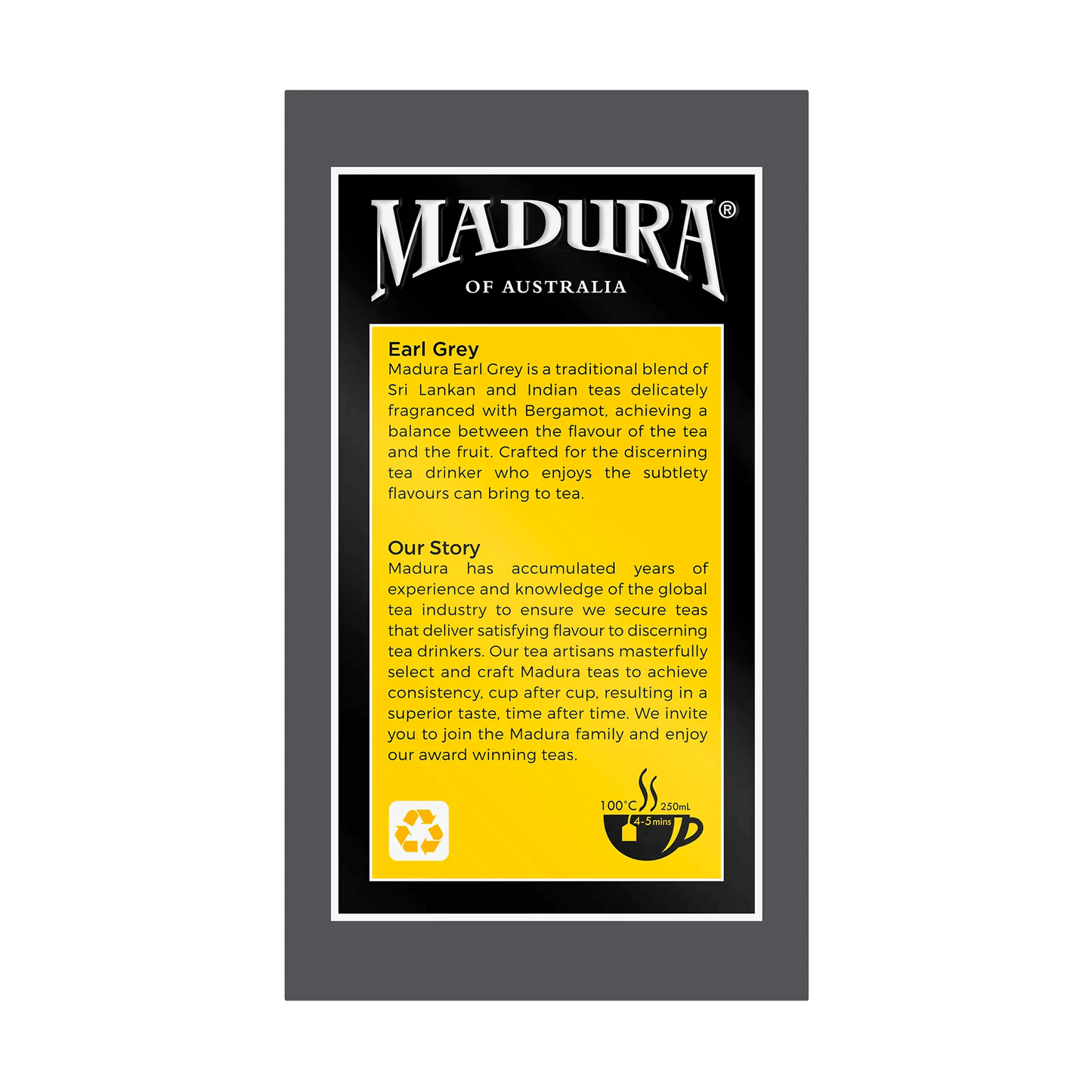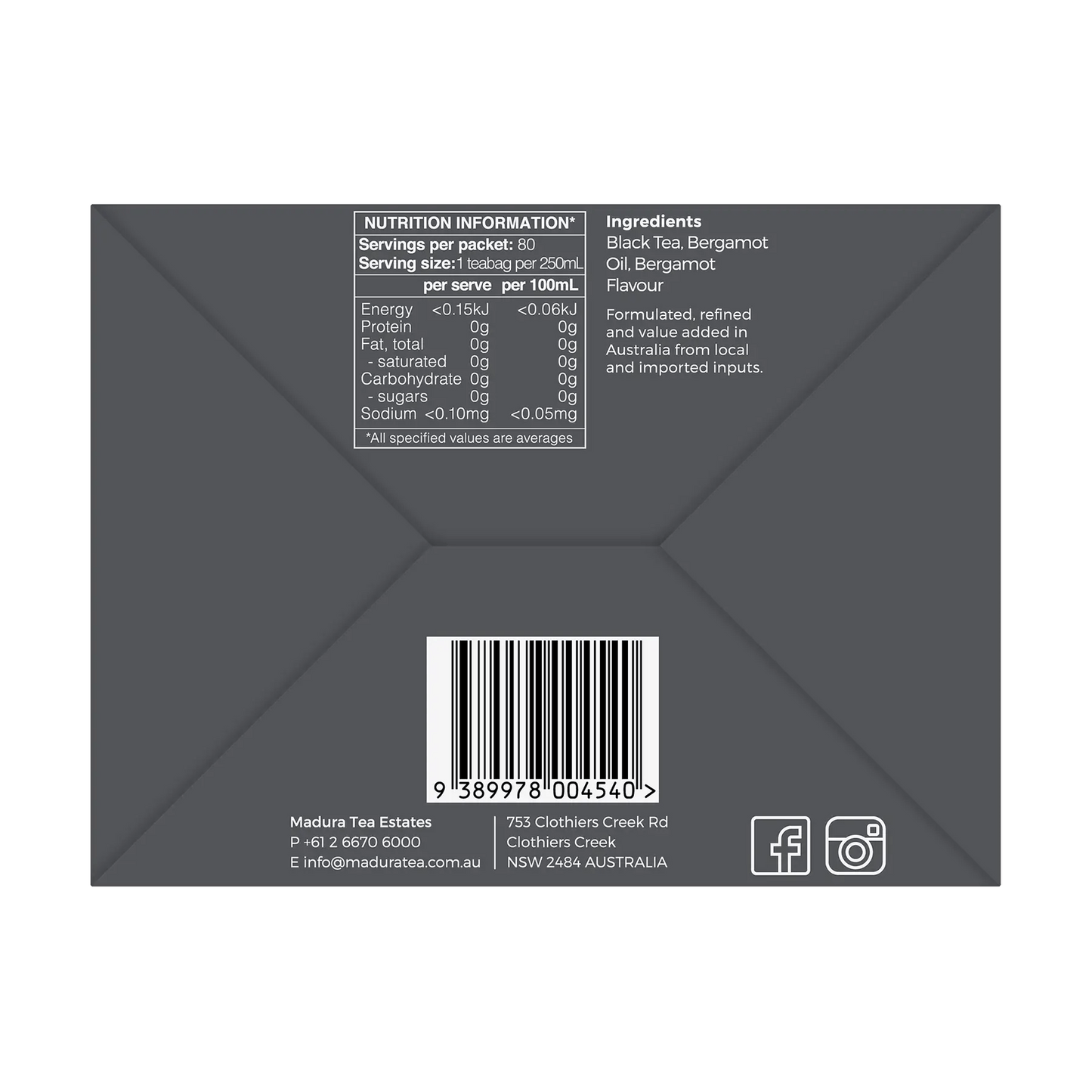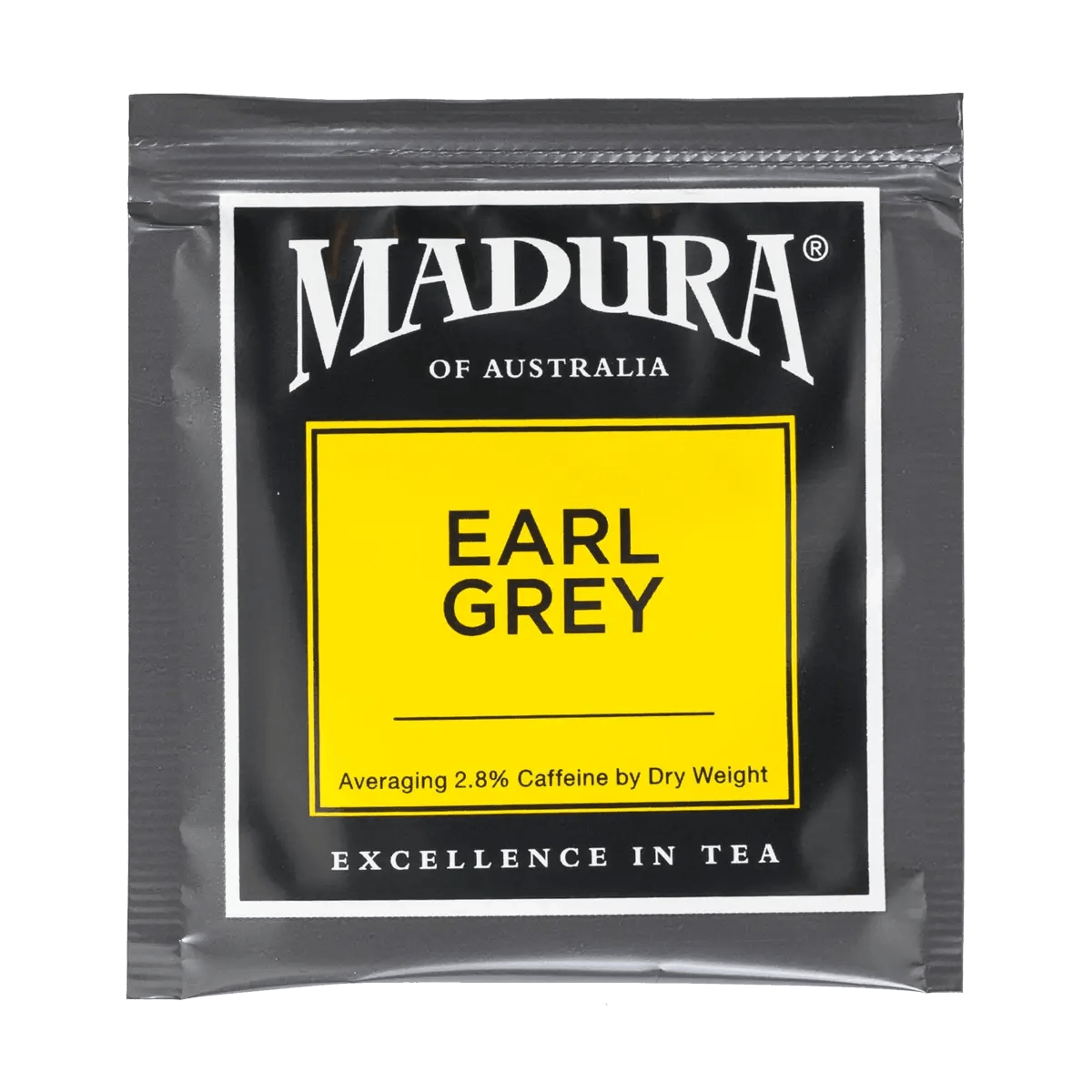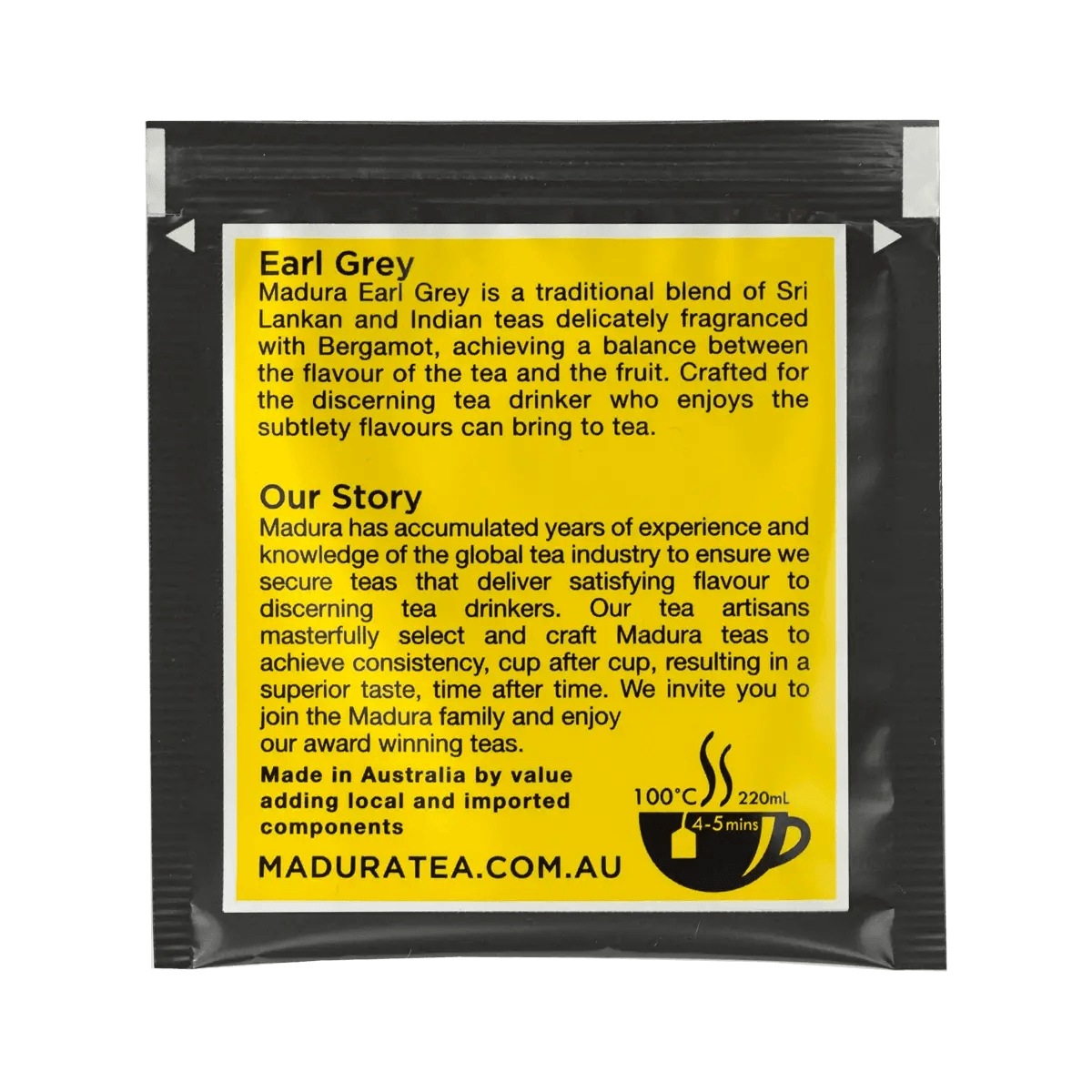 People also liked - Gift Hampers for under your tree!
Stays fresh
Tea bags in the envelopes seem to keep their flavour better especially if you don't use them quickly.
I use them for travelling and prefer loose tea.
Plastic-free tea bags
I always enjoy a good cuppa and the bergamot flavour in the Earl Grey is subtle and refreshing. The biggest draw card for me is knowing that Madurai's tea bags are plastic free means I know what I'm drinking! Thanks Madura for investing in these plastic-free tea bags which are not only good for the environment, but also good for my health! I can only imagine how much plastic I've consumed over the years drinking other brands!
pleasant change
I usually drink green tea with lemon myrtle, but always enjoy Earl Grey as a pleasant change with a light, yet flavorsome treat to my taste buds. It is part of my Mandura box always. A great breakfast tea.
Just the cuppa!
For my patients, a little treat at morning tea or to take back to the ward for the weekend. Refreshing and aromatic with freshness guaranteed in the foil packets😉
Delightful
I have Been drinking Earl grey for over 30 years this is by far my favourite brand . It has the right balance of bergamot and citrus flavours . Nothing better in the afternoon, in my garden.
Earl Grey tea
I am a big fan of this tea. I have it every morning. A great way to start the day. It is very satisfying.