Empty Caddy with Dad's Tea Enamel Mug Label
Regular price
Sale price
$5.95 AUD
Liquid error (snippets/price line 73): divided by 0
per
serve
Unit price
per
Out of stock
Presenting our distinct empty caddy, carrying an enchanting "Enamel Mug Dad's Tea" label. This superior caddy is a loving tribute to all the tea-savouring dads, keeping their treasured brews in prime condition.
Share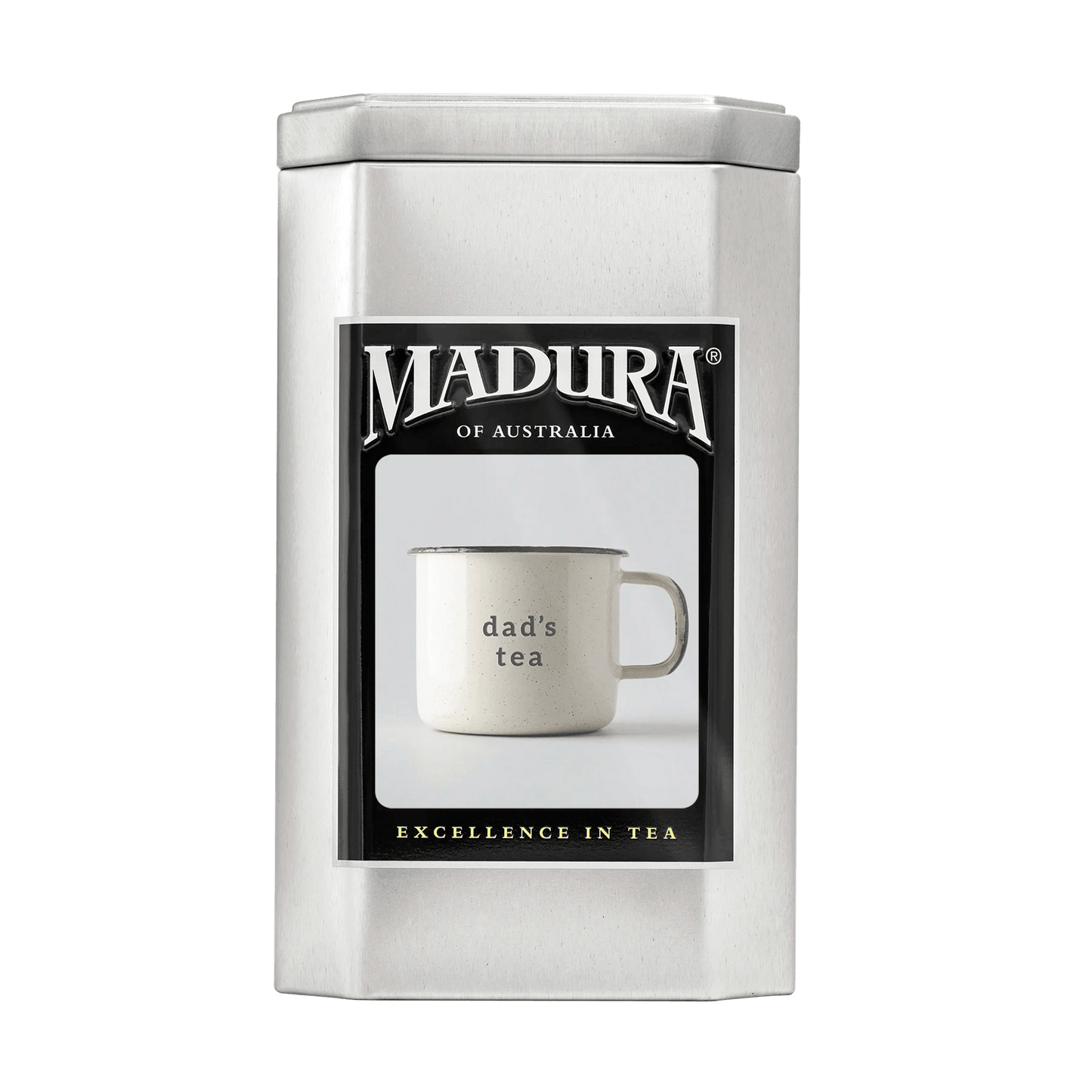 Tea Caddy a Dad's Delight
This single action tea caddy is perfect for keeping premium Madura tea leaves airtight, in the dark, and cool. Unlike the Madura tea caddies from past decades that required a metal clip to be released and then the lid lifted, this caddy can simply have the lid lifted in one action. Its clicking back into place, firmly closed, ensures ongoing tea leaf freshness. If you have one of the old style caddies, test it for yourself. Firstly, you have to release the front clip, then remove the latch from above the lid, and then flip the lid itself open. But not anymore.
The volume size of the caddy is good for decanting new 200 g packets of tea into it.
The metal is of such a quality that none of my past tea caddies have had any rust or surface deterioration, inside or out. And that includes my latch lidded caddies from the 1990's. I consider that a rather amazing feat as I live 300 metres from a surf beach.
Past Madura caddy graphics and colours have always been appealing, almost Aboriginal-like in design, making it apt for tea produced in Australia. See the Premium Blend caddy for an example. The newest caddy to grace our kitchen shelf, however, is my new "Dad's tea" labelled one. Its graphics are a little different from the one pictured above, but the message is clear. My children know I love chai, and I'm saving this new caddy solely for my Madura chai blends. In the past, known as 'Seven Spice Tea', and more recently, 'Te Chai', I'm delighted to be able to have this new caddy for the aromatic spices and black tea blend. This caddy makes it clear that the chai tea inside it is Dad's tea. If you're a dad, I recommend this labelled caddy for your favourite Madura tea blend.